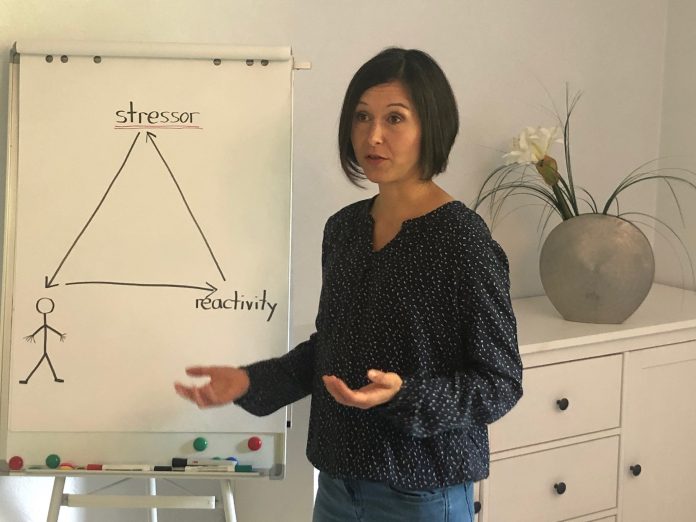 When Jessica Evsen was pregnant with her second daughter, she fell into a deep depression. "Until today", Jessica says, "I don't really know what caused it. But I know that it felt absolutely crippling to be in such a state of despair and hopelessness."
While therapy helped to some extent in the months before her daughter's birth, what made the most difference to Jessica's life was a 3-week online mindfulness meditation course that had, fortuitously, popped up in her Facebook feed.
"Every day, I received an email with practical tips and an audio file to listen to … It was a huge discovery for me that somewhere inside myself there was this place of peace and silence and that I was able to go there to find refuge from all the noise, the demands, the business and especially my own thoughts!"
"This is really what mindfulness is all about: to stop pushing away what we don't like and turn towards it instead."
From that moment on, meditation became a daily routine for Jessica and she credits the practice for transforming her life.
Jessica points out though that, like for many others, her journey through depression hasn't been linear. "Depression is a tricky condition and is sometimes referred to as a 'black dog' that never really leaves you," Jessica explains, but goes on to say that mindfulness helped her reach a crucial turning point. "I was able to befriend my depression and stopped fighting it."
"And this is really what mindfulness is all about: to include everything in our awareness, not only the pleasant things. To stop pushing away what we don't like and turn towards it instead. Listening to what my depression had to tell me was one of the most valuable lessons of my life."
After some time, Jessica realised that she wanted to teach the tools of mindfulness to others, so she decided to take a two-year training course.
Sowing the seeds of Two Wings
During her Mindfulness Teacher Training, Jessica started to wonder who and how she would like to teach. In the Buddhist and Hindu religions, there is a long tradition of offering teachings and retreats on a donation base – or even for free if somebody has no financial means at all.
However, Jessica noticed that "learning the tools of mindfulness in a secular way seems to be a privilege for those who are relatively well off."
"Two Wings alludes to the fact that mindfulness is like a bird, it cannot fly with just one wing."
Together with her husband Kahraman, Jessica wanted to find a way to make mindfulness more inclusive and accessible to everyone.
"For us", Jessica says, "making mindfulness more inclusive is an integral part of the practice itself – an active expression of the two wings of mindfulness: insight and compassion."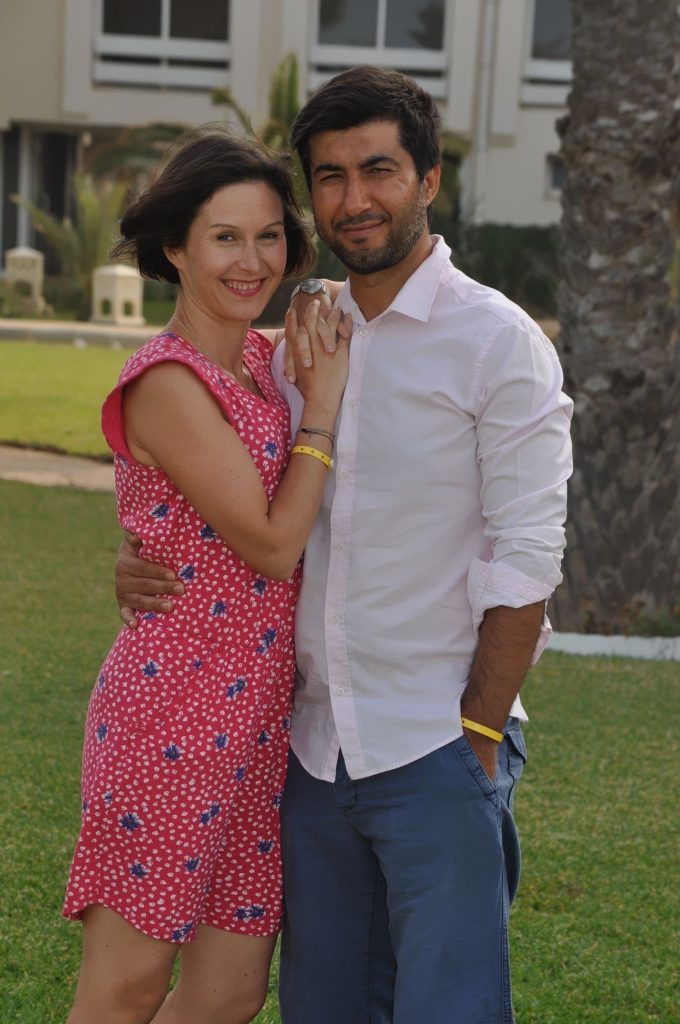 And so, the couple started to explore how to enable those with more limited means to participate in secular mindfulness courses – and also offer a way for those with more financial means to effectively 'sponsor' others. They decided to start a non-profit association, and Two Wings started to take shape.
"Fortunately, my husband has been active in the non-profit sector for years", says Jessica. "Being Kurdish, he is part of an ethnic minority and has been fighting for the rights of his people for a long time. With his support, I was confident enough to start the adventure of Two Wings."
The name Two Wings honours the two wings of mindfulness – insight and compassion – but also the unique approach that the non-profit takes, allowing those with the financial means to do so, to support those in less privileged situations.
Jessica explains, "Two Wings alludes to the fact that mindfulness is like a bird, it cannot fly with just one wing. The two wings are insight (seeing clearly what is present) and compassion (bringing a loving awareness to what we see). At the same time, the picture of the wings also spoke to us because it represents the two different groups of participants in our courses ['patrons' and those receiving 'scolarships' respectively, in the Two Wings philosophy – read more below]."
How does the Two Wings philosophy make mindfulness more inclusive?
The driving force behind Two Wings is to make mindfulness teaching available to the widest possible audience, including those who might not be able to afford a typical course. To make this possible, the course offers three different formulas:
The Patron formula: A patron pays a normal market price for an online mindfulness course, and 50% of the course fee allows another person to take part in the same course on a 100% scholarship.
The Benefactor formula: A benefactor doesn't take part in the course themselves, but make a donation to sponsor a 100% scholarship for someone with limited means.
The Scholarship formula: This formula is aimed at anyone, who, for whatever reason, would have trouble paying for a course themselves.
Jessica stresses that no-one is excluded from the scholarship scheme. "Even if you had a regular income before the Covid crisis, but are in financial difficulty now, you can fill in the application form. After screening the applications, we will conduct a phone interview with the applicants to talk about their motivation in taking the course."
What kind of courses does Two Wings offer?
Two Wings offers different mindfulness and compassion courses, one of which is the Mindfulness-Based Stress Reduction (MBSR) course. The MBSR course is an eight-week group course, with one 2.5-hour session per week, that allows an experiential learning of different mindfulness practices.
Because of the COVID-19 crisis, the first courses will run online, but Two Wings plans to offer in-person courses courses in the future. To start with, the courses will be taught in English, but eventually Jessica also hopes to offer more languages like French, Dutch or German.
Patrons and those receiving scholarships participate in the same course, but Jessica offers the reassurance that "nobody will know who is a patron and who is a beneficiary". Everyone who participates has the same goal, to explore new tools together that will help not only themselves, but also their family, wider social circle and ultimately, society as a whole.
"…that we all share the longing to belong is one of big take-aways for many participants."
"It is very important to us that the patrons and beneficiaries take the training together. Equality, diversity and inclusivity are part of our core values and we believe that the learning experience in a such a heterogeneous group is incredibly valuable."
What is special about a Two Wings course?
There are many mindfulness courses available on the internet, whether in the form of apps or online training. And although these more anonymous options may provide a great opportunity for some, Jessica feels that Two Wings offers an important element that can make the process even more powerful.
"I am convinced that the magic of mindfulness can only unfold if there is real interaction. That's also why Mindfulness Based Stress Reduction is taught in a group and not individually. The power of the group in this process cannot be overstated: hearing and feeling that other people suffer as well, becoming aware that we all feel the same fears, that we all share the longing to belong is one of big take-aways for many participants."
Jessica stresses that even when Two Wings courses are run online, they are always run live and never recorded. "The interaction and connection between the participants and with the teacher are what makes these courses so special", says Jessica, "and we can now say from experience that this connection can be created in a video-conference setting as well as in a traditional classroom setting."
Something else that makes Two Wings MBSR courses stand out is that they are run on a non-profit basis. By registering for a course as a 'patron', participants are automatically creating place for another individual who cannot afford to pay. Jessica explains: "With this formula, we create real diversity in our courses and this in itself is incredibly enriching for all participants as well as the teacher."
Jessica also hopes that eventually, a real Two Wings community will form among students so they can continue to support and empower each other in their practice.
Want to know more or get involved?
Two Wings is still in the process of starting up and Jessica is appealing for support from those who feel drawn to the project. You can help by spreading the word, by becoming a patron or benefactor (the first online course will be launched on 3 July – you can sign up here) or by supporting with your marketing, web design or proofreading skills.
If you would like to contribute, you can get in touch with Jessica via info@twowings.eu.
You can also help by taking part in a short survey to help Jessica better understand how to serve your needs.
Find out more about Two Wings on their website, www.twowings.eu, and follow them on social media:

Facebook: https://www.facebook.com/twowingsmindfulness
Twitter: https://twitter.com/TwoWingsMindful
Instagram: https://www.instagram.com/twowingsmindfulness/
YouTube: https://www.youtube.com/channel/UCk0OriR7WzISx3jnQLc1lKQ?