---
Please tell us a little bit about yourself: where are you and your partner from? how long have you been living here? how many children do you have? what ages are they?
I moved to Brussels from Copenhagen nine years ago to follow my Dutch husband. My oldest daughter, who is nine years old, was born in Copenhagen, while my youngest daughter, who is seven, was born here.
Tell us about your business: where did the idea for your business come from? how long have you been running it? what were you doing before you started it?
I left a career in communication and design in Denmark, but was lucky enough to bring some consultancy work with me to Belgium.
However, I found that working from home was really difficult for me.
I've always been a social and extrovert person, but all that solitude at home made me lose that part of myself.
I found it very lonely to not have my old friends here and my family of course. And since all of my professional contact was through Skype with people in Denmark, it was difficult to make new connections here.
Anyway, I figured more people must feel like me and I had the idea of opening a place that would feel just like home, but with the benefit of social interaction, networking, Christmas parties and much more.
The first Library opened in 2013, the second one in 2014 and the third one in 2016.
Today, we offer coworking, private offices and meeting rooms to approx. 150 members and meeting spaces to international companies such as Chanel, Exki, Mars, Airbnb and many more.
Did you find it difficult to set up your activity in Belgium? Who did you turn to for advice and support?
What was more difficult was to make people understand the concept. Six years ago, coworking was not a known concept like it is today. Most people thought it was just for tech geeks, who relaxed with table football and pizzas.
I wanted to open a stylish, friendly, cosy and chic place, where people of all kinds would enjoy their working day. So explaining not only the benefits of coworking to people, but also the benefits of The Library was the challenging part.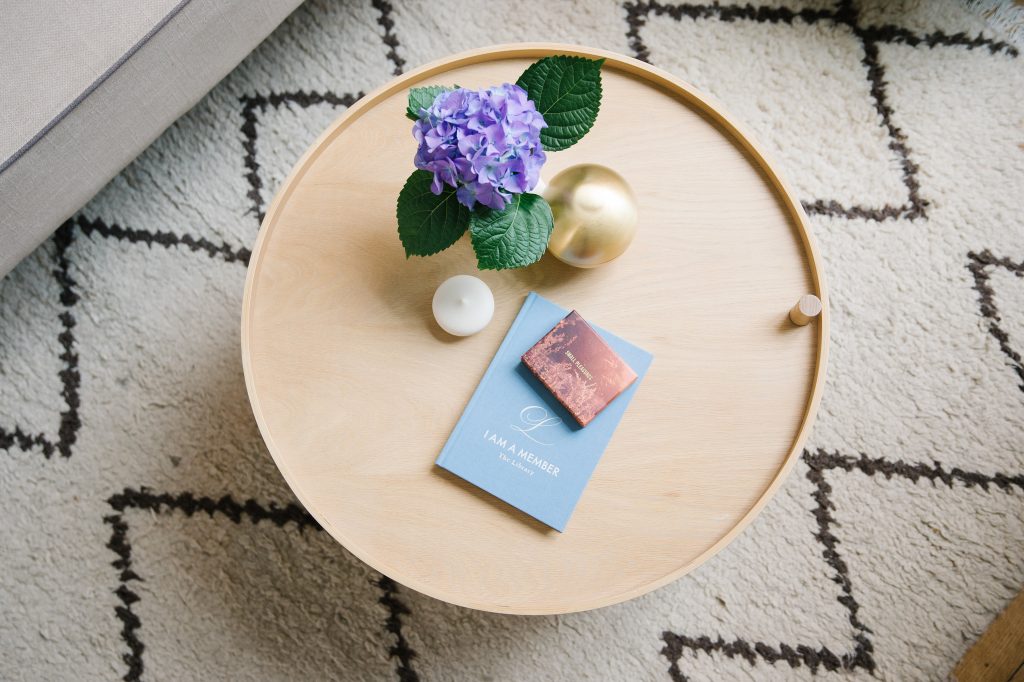 What are the best and worst things about running your own company / business / activity / service?
I love the freedom that comes with being your own boss. I can be there for my kids in their vacations and take time off when they are sick or go on the school excursions.
But it also comes with a price of course.
The sleepless nights you have over the risks you are taking or the endless emails or calls. It requires such fluidity between work and leisure.
But then again, seeing your business grow and enjoying that it has a positive impact on other people's lives is fantastic. I'm very proud of it.
Have you always had an entrepreneurial spirit? Or is this something that came later in life? And was your family (partner, parents, siblings…) supportive of you setting up your business? Would you encourage your own children to be their own bosses? (when they grow up, that is ;))
I think I've always had an entrepreneur in me, but I'm definitely not out of an entrepreneurial family, although they've been incredibly supportive of me. I'm trying to encourage it in my daughters.
They love making pancake stalls outside our house and do jobs around the house for money.
Do you feel that being a parent has any influence on how you do what you do? e.g. your own boundaries, or how you handle employees who have children
I definitely think so. I think parents are often more effective and get stuff done instead of procrastinating. I also think I'm a better boss with more empathy for family issues.
What are your top tips on balancing home and work life? How do you stay organised throughout the day and get time for everyone and everything?
I'm not sure I'm a great role-model as I've definitely struggled with stress at times. But I free up time by not micro-managing my family. So I pick my battles carefully; I don't care what the girls wear to school as long as it's clean and they feel great in it.
I spend as much time as I can with my girls, but I never allow myself to feel guilty for working. Showing them that you have to work hard to be accomplished is important to me.
Because they've been coming to The Library since before they can remember, they know where I am and what I do and I think this makes them more understanding when I'm home late.
For example, they always join us for staff meetings/dinners and just do homework while I meet with the team. Or they come with me on weekends to check the houses and take care of the gardens etc.
Can you recollect any funny child-work balancing stories?
Once, one of the mums at school had gone on an excursion with my daughter's class.
She told me that my daughter had been telling her a lot about how great The Library was and suggesting that she should join it. I was so proud of her! What a great sales person/kid.
I also remember some not so fun moments, when my husband was travelling, my daughter was sick and I had absolutely no one in the world to help me during an important event at The Library.
The feeling of dread in the pit of my stomach still makes me cold sweat.
Do you have any tips for parents who dream of becoming entrepreneurs / starting their own business, but just can't get started?
If you can't get started, maybe it's not the right idea? Or fear is holding you back?
In the early days, I kept telling myself that if I wouldn't start a business, who would? I'm educated and had some savings, so I almost felt an obligation to put something positive into the world.
I'm so glad that I had the courage, because my business has made my life so much more fun, interesting, social and exciting.
I think that my children are growing up with a great understanding of work-life balance and self-confidence, which is what you want in life, right?
---