The total cost of medical care related to the birth of your baby (i.e. including care during your pregnancy, the birth and the postnatal period) can vary greatly depending on choices you make for your care, and your personal situation.

And while the the question of how much it ALL costs is an important one, you're probably more curious to find out how much it will cost YOU!
In this section we look at:
---
What is covered by the Belgian social security system?
If you and/or your partner are resident in Belgium (i.e. registered at the commune as such), you are probably registered with a 'mutuelle' / 'ziekenfonds' and have 'compulsory' and 'complementary' insurance.
This covers around 50-75% of the majority of health costs, including most of the cost of your hospital stay after the birth if you choose a 'shared' room. Note that in Belgium, a 'shared' room is usually only for two people.
For care that is:
not related to the actual birth (e.g. consultations with your care provider, physiotherapy sessions etc.), you usually have to pay the full amount at the time, and then submit a claim for reimbursement. These claims usually have to be submitted within one year.


related to the birth (whether homebirth or hospital birth), a third-party payment system is usually in place. These medical bills are paid directly by your mutuelle, with any supplements either being paid directly by you, or by your 'top-up' hospitalisation insurance, if you have an additional policy.
Contact your mutuelle to find out the exact cover you have and to find out about any other benefits you may be able to take advantage of, such as a birth bonus, subsidised domestic help.
---
What if I am not covered by the Belgian social security system?

If you work for the European institution, Eurocontrol, one of the European schools, the UN, NATO or SHAPE, please check with your employer which medical costs will be covered and how you need to submit claims.


If you are an EU citizen and have a European Health Insurance Card (EHIC) you are entitled to any necessary medical care under the same conditions and at the same cost as someone who is covered by the Belgian mutuelle system as explained above.


If you are not an EU citizen and/or do not have an EHIC, you may be responsible for all medical expenses incurred. If relevant, check with your employer which medical costs will be covered.
---
What can additional hospitalisation insurance cover?
You may also have additional 'top-up' hospitalisation insurance as part of your employment package or may have arranged this yourself.
Top-up hospitalisation insurance often covers most, if not all, of the outstanding hospital bill, i.e. the part that your mutuelle does not cover. Some hospitalisation insurance policies fully cover the cost of a single room, while others may not. Also, under some policies, you may not need to pay any deposit at your hospital.
Worth knowing
This insurance also often reimburses ALL maternity-related medical bills you incur in the period starting one month before and ending three months after the birth (sometimes called the 'hospitalisation period'), e.g. consultations with your care provider, pre and postnatal physiotherapy sessions, the presence of your physiotherapist at the birth.
Check the small print of your insurance policy to know what is covered, and to find out what extra services you may be able to take advantage of.
---
How much does it actually cost to give birth in Belgium?
The two main factors that influence how much it costs to give birth are:
whether you give birth at home or in hospital – giving birth at home will cost you virtually nothing, and some mutuelles even pay an extra bonus of up to €500 if you have a homebirth!

whether you choose a 1-bed or shared room on the maternity ward – most hospitals offer a choice between a single room and a 'shared' room, which usually has only 2 beds (sometimes 3).

If you choose a single room, not only do you pay a supplement for having a single room, but ALL the care that you receive during your time in hospital can be up to 200% to 300% more expensive.

If you receive a single room without specifically requesting one, then the 'shared room' costs apply.

Some hospitalisation insurance covers all costs related to the birth, including any single-room supplements. So it's worth checking the small print of your policy before making a decision on the kind of room you would like.
Another factor to consider may be the kind of hospital you choose (i.e. public hospital, private clinic or university hospital).
Some hospitalisation insurance policies cover all costs related to giving birth, irrespective of where you give birth or what kind of room you choose, so price need not be a factor in your choice of hospital. However, if you do not have such comprehensive coverage (e.g. if you will not benefit from reimbursement from the mutuelle), it might be worth keeping in mind that:
university hospitals are generally more expensive that non-university hospitals (whether 'private' clinics or 'regular' non-university hospital), but the mutuelles reimburse a larger proportion of those costs.


supplements (i.e. costs over and above the amount that the 'mutuelle' / 'ziekenfonds' will reimburse) in private clinics are generally higher than in public hospitals.

How do I know which hospitals fall into which category? See this page for more information.
Average cost
The Union Nationale des Mutualités Libres (national union of liberal mutuelles – original source no longer online) published the below table showing the average cost of giving birth using data from 2010.
While costs have evolved, this still gives an idea of the differences between types of birth and types of room: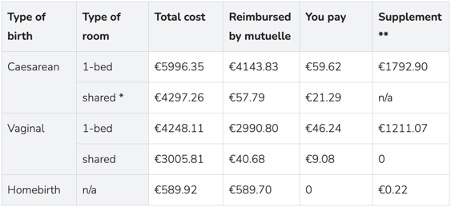 * In Belgium, 'shared' rooms typically only have two beds
** The supplement is payable by either you or your hospitalisation insurance if you have such coverage
How do I know how much it will cost in the hospital I choose?
All hospitals should be able to provide you with a fee schedule, so that you can see how the costs are broken down – you will probably have to explicitly ask for this.
Some mutuelles also provide hospitalisation cost simulators (this one is in French), which lets you compare hospital costs, and can give you a general idea of the difference between hospitals.
---
Benefits that can ease the financial burden
If you are covered by the Belgian social security system, make sure to take advantages of the following financial benefits:
The Belgian state offers a generous one-off birth allowance ('prime de naissance' / 'kraamgeld') of around €1220 for each child that is born, paid by a family allowance agency. Read more about the birth allowance.
And as well as covering medical expenses, mutuelles and hospitalisation insurance policies also usually offer a range of other benefits that can help alleviate the financial burden of having a baby, and generally make your life easier! These include:


Check with your mutuelle what other benefits they offer for new parents. Depending on the mutuelle, you may find extra reimbursements for pre- and post-natal physiotherapy, bonuses for breastfeeding, rental of equipment such as breast pumps etc.
---