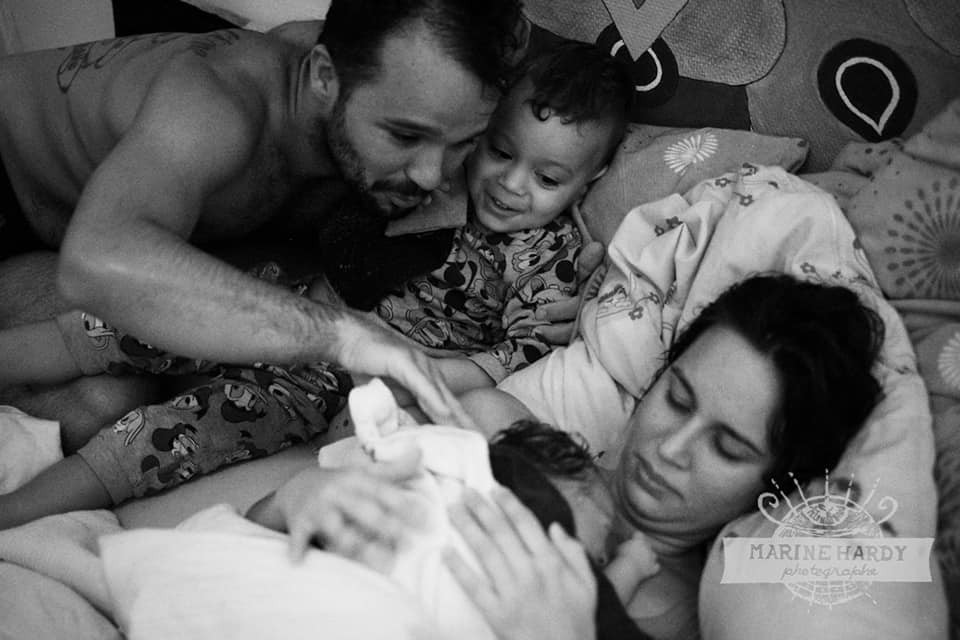 Zwanger in Brussels midwives do not currently offer home birth accompaniment.
"Even before I became pregnant with my second child, knew that I wanted to give birth at home, surrounded by the people I love and who give me confidence. So when I found out I was pregnant, I went straight to the midwife team that would accompany me [editor: the amazing team at Zwanger in Brussel], and chose my doula [Céline Baes from Colibri Espace Naissance].
Together with the midwife team and my doula, we started to plan my homebirth, for eaxmple, looking at all the possibilities in case a transfer to hospital would be necessary, etc.
With my doula I prepared my psychological state, doing some hypnosis sessions, as well as meditations and visualisations… I imagined that I would find it difficult, at the time of the birth, to disconnect and not worry about all 'technical aspects' of childbirth (nevermind all the possible complications), and this is precisely why I was so sure I wanted my doula with me at the time of delivery.
I'd been having contractions since 20 weeks, so I was so happy when I made it to 37 full weeks of pregnancy (one of the first conditions for a homebirth).
I had so many contractions throughout my pregnancy – of different levels, rhythms, and intensity – that every day, I thought that maybe today, Kaël would arrive.

The house had been ready for many days, my birth pool was in my bedroom, and my anxiety levels were high.

On Saturday, 10 November, I woke up with few contractions and went shopping with my mom and young son, Lyam, to see if they would increase, or if something would change. Around 3pm, I started to notice that the contractions weren't stopping anymore, they were just continuous.
I got excited and started the music, started dancing with my son and had my cinnamon tea.
From out of nowhere, my husband felt really tired, and slept on the couch for two hours, while Lyam and I sang, danced and played beside him. Was it the universe making him rest so he would be able to endure the intense night to come? Wise universe!
The more my contractions increased, the more my own joy and excitement increased.
And before I knew it, I was vacuuming the house and organising everything for when the midwives arrived.
Around 6:30pm I told my husband that I thought today would really be the day. As usual I went to test my contractions by taking a long bath with Lyam – if the contractions stopped I would know it wasn't yet the long-awaited day.
Already in the bath I noticed that they were getting more intense and decided to enjoy this last bath with Lyam, with Kaël still in my belly. I explained to Lyam once again that I was feeling that his little brother was almost coming.
As soon as I got out of the bath, I called my midwife to let her know what was happening. She wanted to come right away but I asked her to wait another 2 hours because we didn't want any false alarms. She agreed, but an hour later, she sent me a message saying that she was on her way because she could feel Kaël's call.
At this point, the contractions were strong but very bearable. I kept dancing around the house, doing exercises and eating.
When the midwife arrived and examined me around 8:30pm, I was 3 to 4 cm dilated.
Kaël's heart rate was great and she told me that I was really going into labor and I could call my 'team' when I wanted.
I was so happy I couldn't fully believe it yet, and was scared to death that the contractions would stop. So I waited a little longer before I really came to terms with the idea that it really was THE day.
At 9:42pm, I finally made the call: my doula, my mother, and my birth photographer were on their way. When they arrived, Lyam was still awake, massaging my back and talking to Kaël through my belly. My mom soon got him to sleep and I could get in my 'concentration bubble'.
I didn't see anyone, it was just Kaël and me dancing with my eyes closed, welcoming each contraction with great happiness.
The contractions were getting very intense, and as the midwife noticed my behaviour change, she proposed that we fill up the birth pool. I thought it was still too early because the pain was still bearable, and I wanted to get in the pool once I couldn't take the pain anymore.
But what a wise and experienced midwife: by the time the pool was finally full, I was already craving to go inside.
I got into the pool around 1am, and I felt an immediate relief. I mentally thanked each contraction.
They were growing stronger and stronger until suddenly, during a contraction, I felt an explosion inside me, and a lot of pain.
It was the amniotic sac that broke that had broken. Throughout my labor I had been touching and examining myself almost all the time. The midwife asked me what I was feeling and I explained, and when we felt it necessary, she asked to examine me.
After the waters broke, the contractions intensified, getting faster and faster, and I began to feel very hot. My mother and doula put cold cloths on my forehead and neck and wiped my sweat.
My husband was in the pool with me, supporting me fully. My 'OHM' mantra was turning into shrill screams; I remember saying often "Now that's the crazy contractions!"
The pain was very intense and I began to think that the labour was stalling. I wasn't sure how dilated I was so I asked the midwife to examine me.
I was fully dilated but still had a thick left cervical lip. She then suggested I sit in a cross-legged side position and told me that the more contractions I could handle in that position, the sooner I would be ready for the final expulsion.
Soon I found myself on my knees in the bathtub, feeling my son's head slowly dropping, and I was very desperate. Together with my mum, we felt the size of his head, and I couldn't imagine I would be able to do it.
Just then, Lyam came into the room. It was as if he has come in to bring me the strength I need.
My doula picked him up, brought him over to me, and explained to him that Kaël was almost there. Lyam told me "Mom, just a little bit left" and gave me a kiss on the forehead.
I cried, and then came an uncontrollable urge to push. I screamed a lot and did what my body told me to do. I was on my knees with my arms out of the tub and I felt my husband holding me so I wouldn't get out of the tub.
I announced that Kaël's head was coming out and got up a little to turn around and welcome the next contractions half lying down, with the midwife checking and guiding his head.
Kaël was welcomed by his daddy and the midwife's hands and immediately placed on my chest.
There was my perfect baby, born after my dream birth, in my arms.
For me everything was perfect, even better than I could have imagined, surrounded by wonderful people who respected me, welcomed me, and supported me.
My doula welcomed not only my own emotions but also those of my husband and mother.
Midwife team: Zwanger in Brussel
Doula: Céline Baes (Colibri Espace Naissance)
Photographer: Marine Hardy
Kaël 11/11/2018 ♡ 3h58 ♡ 3,430kg ♡ 51cm"