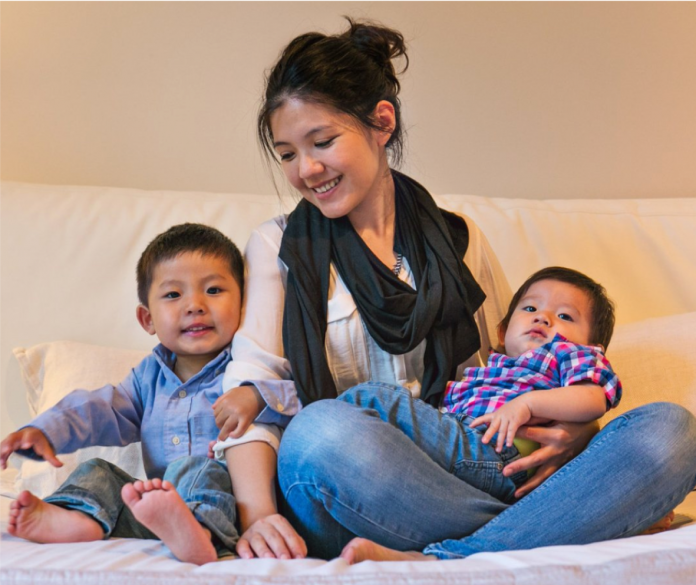 Please tell us a little bit about yourself: where are you and your partner from? How many children do you have? What ages are they?
I was born in the States but grew up in Taiwan. My husband is from Belgium, and we met at school in the U.K. I lived in Belgium from 2008 till 2017. Our family then relocated to Singapore, and it has been great!
We are moving back to Belgium this summer (2019), and we are pretty excited about it as that means we will get to hang out with our family and friends there a lot more!
Both my husband and I work in the banking sector. We have two boys: Lucas aged 8 and Oliver aged 6. They have been such a blessing, bringing much blissful chaos to our life!
Tell us about your company / business / activity / service! Where did the idea come from? How long have you been running it? What were you doing before you started it / what do you do alongside it?

My product is the CHOU & CHOU 8-in-1 Maternity and Nursing Cardigan [editor: as of 28/05 the online store is sold out, new stock due in July 2019. In the meantime you can find this item in baby boutique https://www.tibouettiloulou.be/ in Nivelles]. It's convertible as a nursing cover, maternity top, cardigan, scarf, shawl, baby blanket, baby carseat cover and shopping cart cover.
It's made of silky soft premium bamboo fabric which is antibacterial, hypoallergenic, environmental friendly – and offers awesome UV protection!
The idea sprung from my own need. I breastfed both of my boys for a prolonged period of time. Personally I didn't feel comfortable being exposed in public, so I always had a nursing cover with me when I was out and about with my babies.
I used three different kinds of nursing covers, but none of them was right. They were either too big that made you feel you were sitting under a tent or too small that didn't provide enough coverage. The material wasn't so comfortable either.
So I decided to create my own brand of nursing covers. I wanted it to provide great coverage, be made of really nice material and, last but not least, being multipurpose. This way you just get so much more use out of the product.
Did you find it difficult to set up your activity in Belgium? Who did you turn to for advice and support?

It took some time and efforts, but I'm grateful that my husband actually had experiences in this area so he helped a lot. He was amazingly supportive.
What are the best and worst things about running your own company / business / activity / service?

The best thing for me is that it's creatively fulfilling (hello, I work in a bank..!). When you see your idea turns in to a product – a product that other moms love and are willing to use their hard earned cash to pay for…it just makes you so happy!
The worst thing for me is the sourcing and supplier management. The process is draining.
Have you always had an entrepreneurial spirit? Or is this something that came later in life?

It came after I become a mom actually. Being a mom made me want to push myself to achieve something outside of my day job and family. It's almost like you want a brand new identity.
Was your family (partner, parents, siblings, as relevant) supportive of your venture? Would you encourage your own children to be their own bosses? (when they grow up, that is ;))

My husband was very supportive. In general he is supportive of any ambition of mine. I love him for that.
I would definitely be supportive of my children's entrepreneurial pursuit provided that it wouldn't impact their family's financial stability.
Do you feel that being a parent has any influence on how you do what you do? e.g. your own boundaries, or how you handle employees who have children
It really does. Being a full time working mom with a side business means I have to set clear priorities over the different elements in my life. Otherwise I could end up working on the brand when I should be putting the kids to bed.
Sometimes you just have to let things go if they take too much of your energy and attention away from the more important things.
What are your top tips on balancing home and work life? How do you stay organised throughout the day and get time for everyone and everything?

In addition to setting clear priorities as mentioned above, I find it really helpful to have some quiet time everyday.
I usually spend some time in the morning doing a daily Bible devotional. It has really helped me be more at peace with the daily challenges instead of blindly running from task to task to tick off the checklist.
Another thing I find helpful is to set clear and small tasks that can be accomplished within 30 minutes or an hour. Setting aside 30 minutes or an hour is much easier than setting aside 4 hours of your time.
It then becomes easier to get things done on a consistent basis. Seeing yourself getting things done consistently is motivating in itself.
Can you recollect any funny child-work balancing stories?
Not funny as such, but I involved my kids in the first photoshoot I had for the nursing cover. It was lots of fun. Looking at those photos and the video always puts a smile on my face.
Do you have any tips for parents who dream of becoming entrepreneurs / starting their own company / business / activity / service, but just can't get started?
I find it easier to start the business in the area you love. For instance, food, baby products, fashion.
Going from there, find a niche and create something different whether it's the product or the service it offers. It doesn't have to be something completely different and new. It can simply be a better and more creative version.