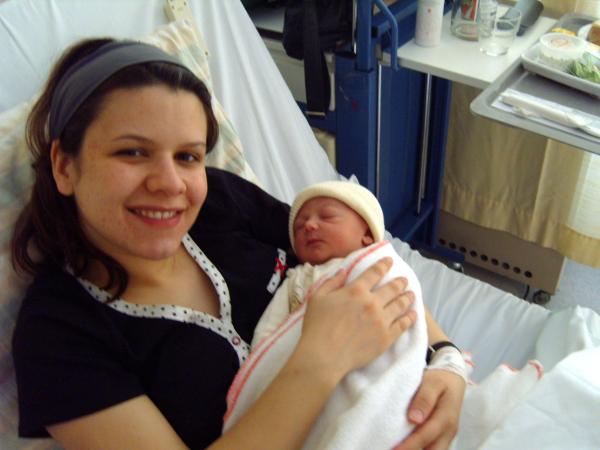 Sandra Amorim is mum to two beautiful, active boys born in 2009 and 2012 in Brussels. Sandra is Portuguese-American and lived in Brussels from August 2006 to August 2013. She now lives in the U.S.

This birth story, of Sandra's first son, was originally published on her blog BXL Sprout and is republished here with Sandra's kind permission.

---
I had gone out to dinner on Sunday 12 April feeling huge, but appearing to still be carrying quite high. Everyone was absolutely convinced I was going to go over my due date.
Later that night, I woke up at around 4.30am with what I thought was painful trapped wind, so off I went to the bathroom. I then realised I had started bleeding slightly and woke R up to let him know.
I wasn't sure what it was because I imagined I had to lose my mucous plug before going into labour and thought it would be different. He became a bit worried and wanted to go to the hospital immediately, but I was quite calm and didn't want to get there and just get turned away so I asked him to draw me a bath and wait.
I spent most of the time in the toilet and started to think my bowel movements were probably the start of labour. Still not entirely convinced, I began to prepare for my bath when Rodrigo insisted we go to the hospital (my trapped wind was coming at regular intervals by then!) and I agreed.
Once we arrived at 6.30am, the midwife checked me and we discovered I was already 6cm dilated! I was offered an epidural because the window for it was almost over and when she realised I was thinking about not having one, she was very supportive in saying the worst was over so I'd be fine.
I must say the pain became much more bearable once I had confirmation that it was almost time. I didn't really use any of the equipment (birth ball, tub, ropes, etc.) and the position I felt was most comfortable in was sitting cross legged on the bed with my eyes shut during contractions and breathing deeply.
R said you could really tell that yoga had been a great help in relaxing and breathing. I didn't scream like in the movies or even talk much at all for that matter.
When the midwife came in to monitor me again, I was already 9cm dilated and they had to call my gynae again so she would hurry up!
By that time my water still hadn't broken so the midwife ruptured my sac. That was the most pain I felt during labour (besides the iv drip and episiotomy)! Still, it was quite bearable. I wanted to breathe my baby down instead of pushing, but I wasn't able to so I had to push. I had to have an episiotomy because things were going so quickly and I was beginning to tear.
I have to say that the most painful bits were the IV (they hooked me up shortly after being admitted, even though they didn't run the drip) and the cut and stitches.
Luckily, by the time I was being stitched, little Sprout was already on my tummy so I didn't really care! He was beautiful! I was asked if I wanted to touch his head as he came out or have a look, but I just felt the need to push and couldn't really keep my eyes open! I ended up feeling more comfortable doing this in the gynaecological position, despite what I thought beforehand!
Sprout was born at 9am a healthy, alert and very calm baby.