Although many of us are better armed than ever with fancy smartphones equipped with powerful cameras, the truth is that we rarely end up with any great shots … and even if we do, usually don't get around to printing them.

So booking a session with a professional photographer can be a great way to capture some special moments along your family's journey. Whether it's to have some special artwork to display on your walls, or give to family, or just create some wonderful memories of different phases in your lives.
In this section you can find:
some tips from local photographers on:

---
English-speaking photographers
Here are some popular English-speaking photographers in the Brussels area and beyond:
Bear & Dragon Photography – American Nicole Gustafsson is a fellow mom, adventurer and photographer based in Brussels. Working in her studio, client's homes or the great outdoors, Nicole offers maternity, newborn, baby and family photography sessions. Her focus is on working with each client to create beautiful and fun images that they will always love. Nicole works within a 15km radius of Brussels.

Check out the Bear & Dragon website, blog and Facebook page for a feel for the magical images Nicole captures in her maternity photography, baby photography and family photography.

---
David Sdika is a father of two daughters and photographer based in Brussels since 2007. Specialising in portraits and family photos, he looks for naturalness and seeks to brings out the emotions and elegance of each person. David has a unique style; he essentially works in black and white, using vintage cameras and film that he develops in his studio. Originally from Paris, David lives in Brussels and works internationally.

Take a look at David's website for inspiration and to see his unique style.
---
Lyva Photo – Lydia is a fine art photographer based in and around Brussels & Leuven. Working with natural light only, her approach is gentle and empathetic, focusing on connection. Her aim is to provide clients with emotive photographs which captures the fleeting, precious moments with our loved ones. Originally from the UK, Lydia grew up in Brussels where she now raises her daughter, who often inspires her creativity.

Check our Lydia's website and follow her on Facebook to be inspired by her stunning photography.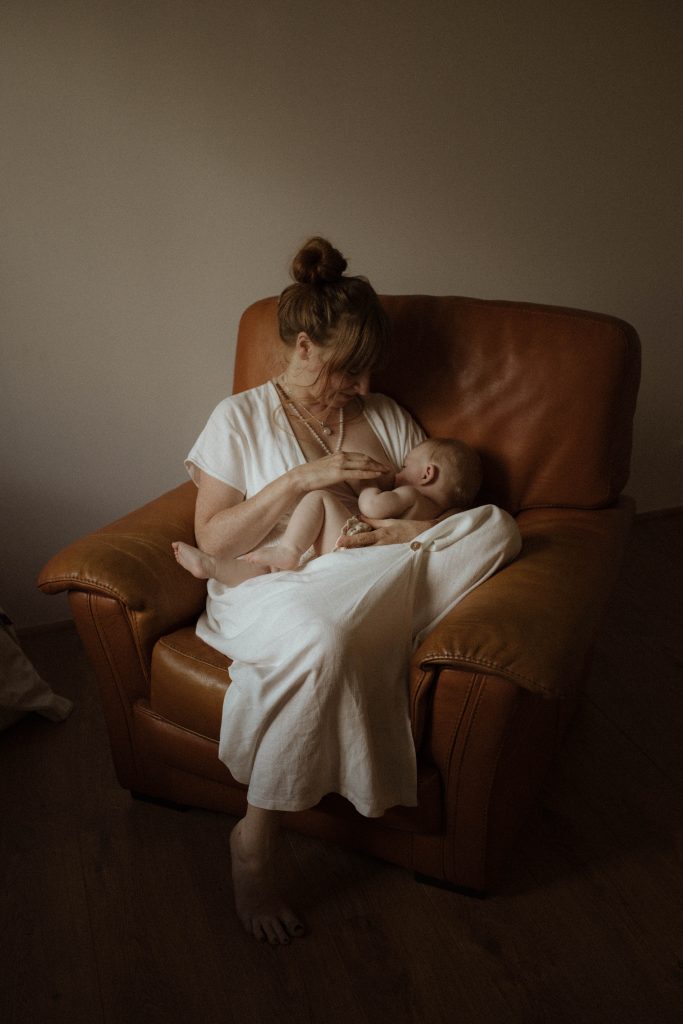 ---
Pure Life Fotografie – Joke is a maternity and newborn photographer, based in Vilvoorde (in studio or on location). Her goal is to capture your family moments exactly as they are. Let you experience the pure beauty of yourself and your family. Make the time to stand still for a moment and enjoy the here and now. But especially to be able to relive this feeling forever through the photos she creates of you.

Visit the Pure Life Fotografie website or follow on Instagram or Facebook.
---
Deciding on the style of photos you want
Nicole Gustaffsson from Bear & Dragon photography says:
"The first thing to think about when planning a photo session is what type of photography style you like and how to find a photographer who will work with you to bring it to life. One of my favourite resources is pinterest.com which allows you to "pin" images that you like on to project boards. Type in a search for "family portraits" or "newborn photography" and you will find hundreds of different pictures to choose from. It is very easy to then share this with your chosen photographer. This is probably the most important step to take to get to the pictures you are hoping for."
---
When should I schedule my maternity or newborn session?
Amanda Van Erp, a family photographer formerly based in Brussels, says:
"Maternity sessions can be planned at any time throughout your pregnancy, and a series of shoots can be a lot of fun. However if you choose to schedule only one session, it's usually best between weeks 32 to 36 of your pregnancy. This is likely when you will feel most beautifully pregnant and still comfortable.
Newborn photography can be categorised into two general styles: posed and lifestyle. Posed newborn sessions are known for sleepy curled up poses and often incorporate a wide variety of props including baskets, hats and wraps. Lifestyle newborn photography is a more relaxed style that aims to capture images that tell a story of the baby and family in their real environment, and often documents moments such as feedings, bath time, and rocking the baby to sleep.
The best time to photograph a newborn baby depends on what style appeals to you most.
For posed newborn sessions, sessions ideally take place when the baby is between 5 to 10 days old. During this window, babies are sleeping the deepest and still naturally fold into curled up positions comfortably. After the first two weeks, newborns begin to be more alert and often have discomfort from cramps.

Lifestyle sessions on the other hand can be successful even after the two week mark, but ideally still happen as soon as possible in order to capture the newness and small size of the newborn.
For either style, it is best to book the newborn session in advance during your pregnancy."
---
Where should the photographs be taken?
Nicole Gustaffsson from Bear & Dragon photogaphy says:
"Once you know what type of photos you want, the next thing to do is choose a location. Most photographers will work with you in their studio space, outdoors or at your home. Working in a studio means that you are almost guaranteed to have a beautiful setting with great light that your photographer is used to working in. Plus you don't have to clean. 🙂
Outdoors can be fantastic. The kids can run, you have space to play and the seasons come into as well. In Belgium, there is always a risk of weather so make sure you know your photographer's policy in case of rain.
Finally, there is your home. The most important ingredient is space and lots of available light. If you choose this route, make sure you speak with your photographer to select and simplify the best settings. You are sure to cherish these pictures as they really capture your life."
---
What should we wear?
Nicole Gustaffsson from Bear & Dragon photogaphy says:
"With family photos, it is nice to coordinate colours but not exactly match. I always recommend the website Design Seeds to my clients to help them find a color palette they love."
---