Protecting ourselves from the sun is important at any age, but taking the right sun-protection measures for our babies and toddlers is critical. We all know it's important to build good habits like avoiding the midday sun, wearing protective clothing and hats, and using umbrellas on prams and strollers … but there may be times when you can't fully avoid your baby's skin being exposed to the sun. So what kind of sunscreen should you choose?
Dermatologists typically recommmend using a mineral-based, sensitive formula with at least SPF 50 for babies over six months – note that most brands only recommend their products from 6 months up. As well as ensuring the highest protection and care for your baby's delicate skin, mineral sunscreens don't use chemicals like oxybenzone, octinoxate etc. that can irritate some skins, be harmful to marine ecosystems and that may, according to a recent small research study, be absorbed into the bloodstream.
But the decision dilemmas don't end there. Mineral sunscreens use zinc oxide or titanium dioxide as a physical barrier to deflect UV radiation, and some products use nanoparticles (i.e. particles less than 100 nanometres wide) of these chemicals to make them more transparent and easier to apply. Some research suggests that nanoparticles can disrupt our hormone system. If you prefer to avoid nanoparticles, look for mineral sunscreens using 'non-nano' minerals (i.e. where the particles are too large to pass the top layer of skin).
There are also some non-mineral based products that offer great, safe protection for babies, and in our list below, you'll find both mineral and non-mineral based baby-friendly sunscreens.
IMPORTANT – Never cover your baby's pram with a blanket or shawl in hot weather as this prevents the air circulating and could lead to dangerous overheating.
How can I be sure my baby's sunscreen is as safe as possible?
When choosing a sunscreen for your baby, make sure to choose a product that is broad-spectrum (i.e. protect from both UVA and UVB rays). It's also better to opt for a lotion-based product instead of a spray, which can be inhaled.
If you want to check how safe the product is in terms of its ingredients, you can use an app like Yuka – this free app lets you scan a product's barcode and see: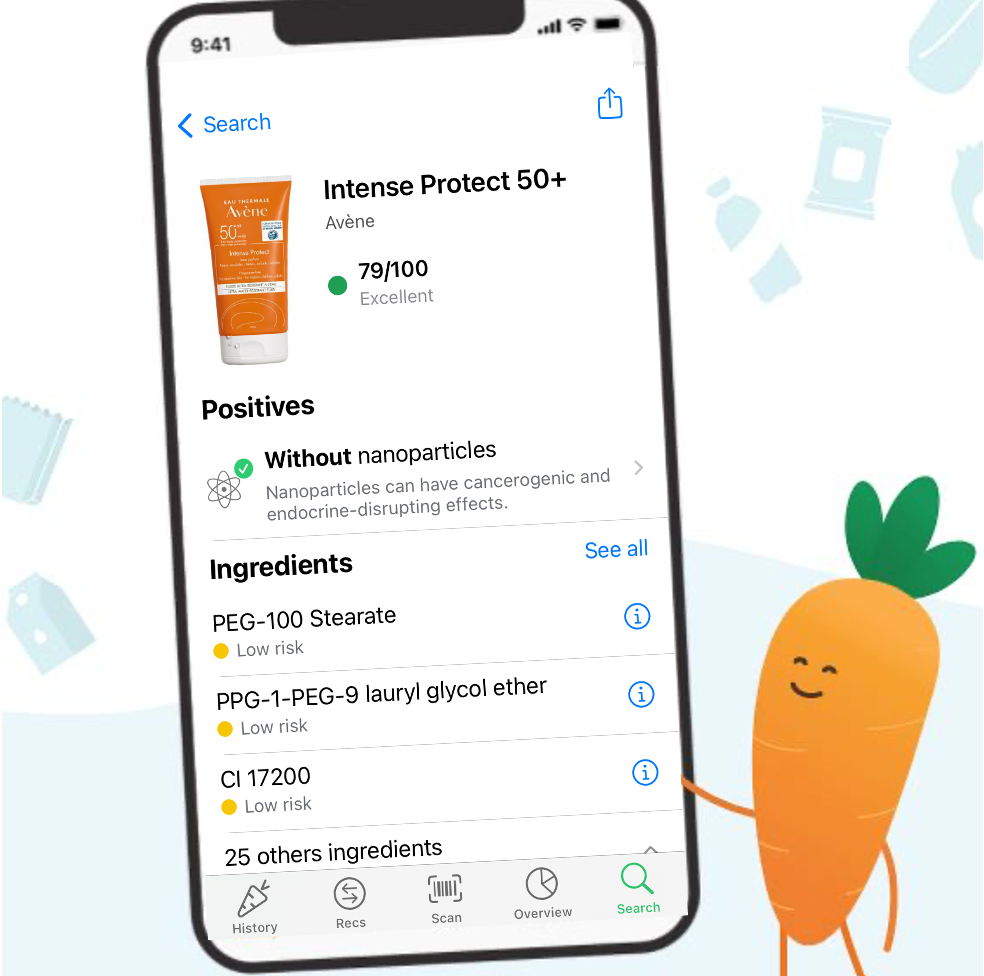 its overall score;
if it's free from nanoparticles;
a breakdown by ingredient (whether each is 'no risk', 'low risk', 'moderate risk', or 'hazardous').
For around €10 per year, you can also search the app for products (i.e. without needing to have a barcode of a physical product), making it a handy ally when shopping online.
5 of the best baby-safe sunscreens
Mustela Lait Solaire Très Haute Protection SPF 50+
Yuka rating: 100/100 – Excellent
Mustela's SPF50+ family-frienly sunscreen combines high protection SPF 50+, UVA-UVB filters and a patented active ingredient, Avocado Perseose to provide enhanced cellular protection against UV rays. It's not a mineral-based sunscreen, but its ingredients pass Yuka's criteria with flying colours.
This Mustela lotion is fragrance-free, easy to apply, and is resistant to water and sand – in particular, parents who are not fans of the white film from mineral sun lotions comment that they love how this sunscreen applies. It's also ocean-safe, so you're being respectful of marine ecosystems.
Suitable for babies from birth, including those with atopic-prone skin.
Sold on medimarket.be, pharmamarket.be, newpharma.be, farmaline.be and others.
Avene Intense Protect 50+
Yuka rating: 79/100 – Excellent
Avene Intense Protect 50+ is an ultra-broad spectrum sunscreen for face and body. It's an ultra-light, ultra-water and -sweat resistant lotion that quickly penetrates the skin without leaving white streaks and keeps skin hydrated for up to 8 hours. It's not mineral-based, but uses ingredients that are safe even for the most delicate skin. This sunscreen is fragrance-free.
Suitable for babies from 6 months.
This sunscreen's non-ecotoxic sun filters have no impact on coral, phytoplankton and zooplankton, ensuring marine biodiversity is respected.
Available in many pharmacies and also online at medi-market.be, pharmamarket.be and others.
Weleda Edelweiss Sunscreen Lotion SPF50 Sensitive
Yuka rating: 83/100 – Excellent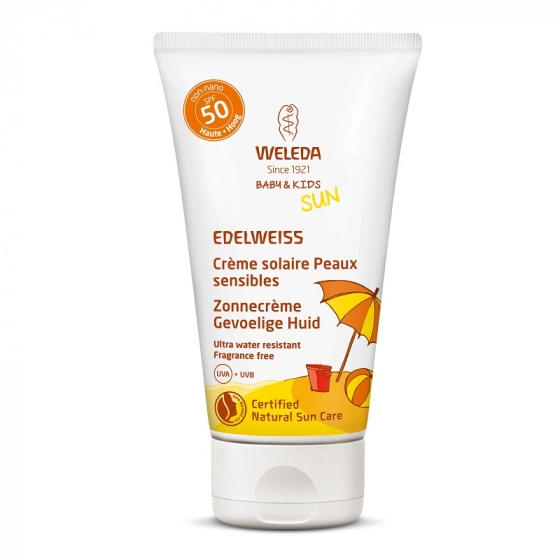 This SPF50 lotion for sensitive skin uses non-nano mineral UV filters (titanium dioxide, in particles that are too large to enter the skin) to protect against UVA and UVB rays, and organic sunflower and coconut oils to preserve the skin's hydration. And with its antioxidant, antiseptic and anti-inflammatory properties, organic Edelweiss further protects your baby's fragile skin. It's also fragance-free.
Weleda says this sunscreen is suitable for babies (without specifying an age).
As this sunscreen uses mineral filters, it can leave a white film on the skin – handy for spotting areas you haven't covered yet!
Available on hollandandbarrett.be, pharmamarket.be and others.
Suntribe Kids Mineral Sunscreen SPF50
Yuka rating: 100/100 – Excellent
Made using non-nano zinc oxide, this organic and mineral sunscreen provides safe and broad-spectrum UVA and UVB protection as soon as you apply it. It's allergen-free, water-resistant, and doesn't sting if it gets in your baby's eyes – though we still recommend being super careful around the eye area! The lotion has a vanilla scent.
Suitable for babies from 6 months.
This sunscreen leaves a faint white film so you can easily see where you've applied it, and don't miss any spots. Plus, it's reef-safe, so you can rest assured that sea and ocean ecosystems are not threatened.
Available on pharmamarket.be and others.
Alphanova Lait solaire bébé SPF50+
Yuka rating: 100/100 – Excellent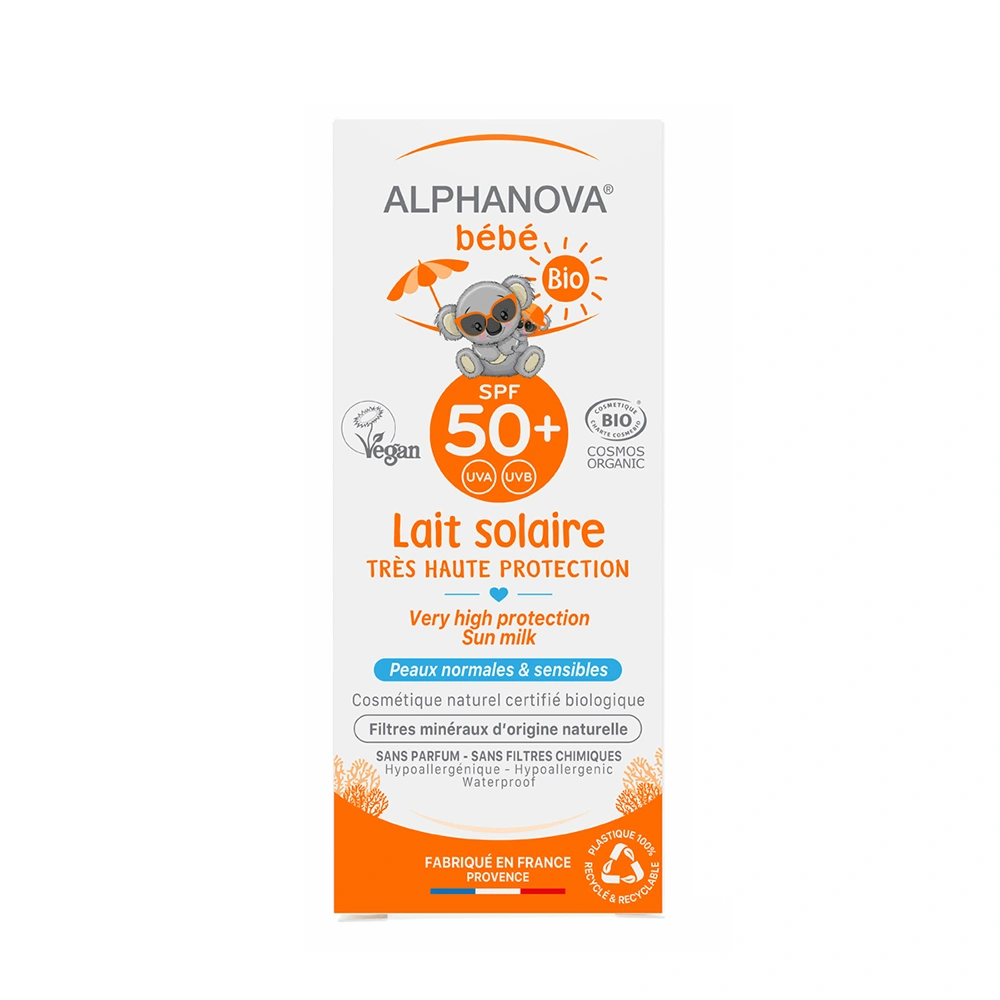 This organic, mineral sunscreen contains no alcohol, fragrance or phenoxyethanol, and is hypoallergenic and dermatologically tested. It uses titanium dioxide to offer physical protection from the sun, and starts working as soon as you apply it.
Because it's mineral-based, it leaves a slight white film on the skin. This sunscreen is also reef-safe, causing no water pollution.
Although Yuka lists this sunscreen as not having nanoparticles, Alphanova mentions titanium dioxide nanoparticles in their list of ingredients. The company says that they have "had studies carried out by an independent analysis laboratory which certifies that our mineral filters reflect UV rays and remain on the skin's surface without penetrating the skin. These studies were carried out on both our finished products and the ingredients that make them up".
Available in some Decathlon stores and on sebio.be.
---
Want to learn more about sunscreens?
This blog from the British Skin Foundation gives easy-to-understand information about UV rays and different types of sunscreen: https://www.britishskinfoundation.org.uk/blog/sunscreen-explained.
---
Shout-out to the English speaking mums Facebook group where mums recently shared their own experiences and preferences regarding baby-safe sunscreens. This is a wonderful private (but open to all) group, and if you're not already a member, you should join!