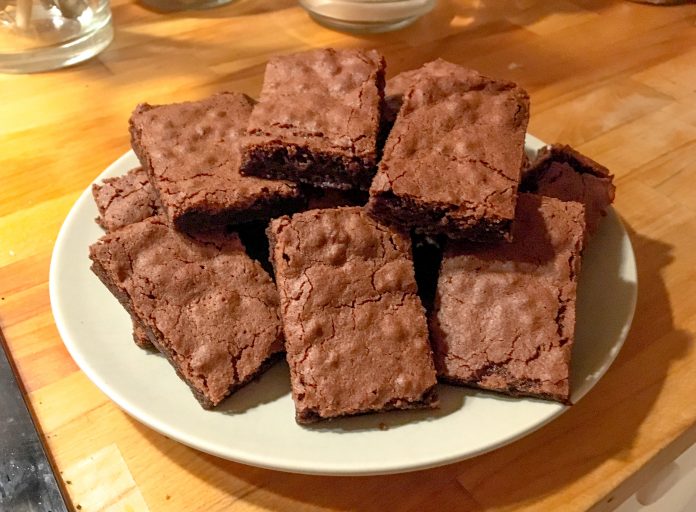 Based on a mix of all the best brownie recipes we've ever tried, this version comes out great every time: a hint of crispness on top, slightly sticky in the middle, and a light dusting of boudoir/amaretti crumbs on the bottom to give it just the right amount of chew.

Makes: 12 brownies of around 6 x 6cm (We use a 26 x 18cm baking tin … well, we use two! We ALWAYS make double, and bake it in two tins.)
Cooking time: 30 minutes
Preparation time: 10 minutes (multiplied by the number of child helpers you have)
Difficulty level: Easy
What you'll need
100g butter (we use salted butter)
2 large eggs
270g sugar (we use white sugar)
100g plain flour
4 tablespoons cocoa powder
1 1/2 tsp vanilla sugar (we sometimes use 1 x 10g sachet of vanilla sugar)
1/2 teaspoon salt
extra butter to grease baking tin
+/- 10 boudoir biscuits to cover base of baking tin (amaretti biscuits also work well)
We use a 26 x 18cm baking tin.
Method
1. Turn on the oven to 175°C.
2. Measure out ALL your ingredients and take our your baking tin(s).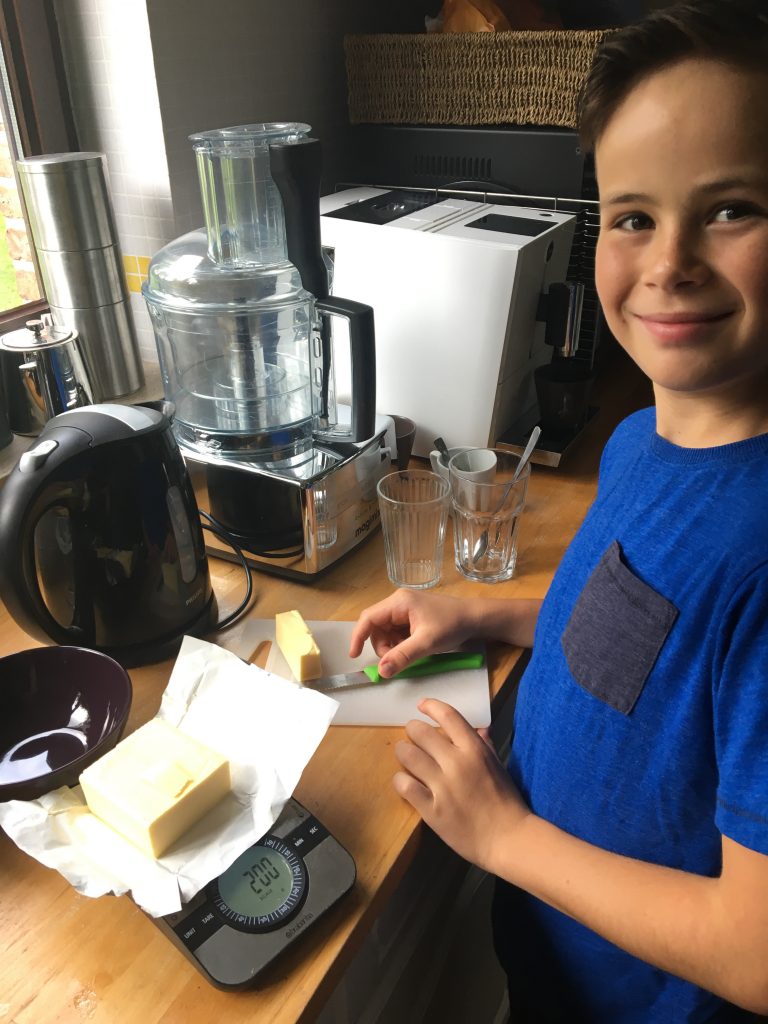 3. Melt the 100g butter and allow it to cool. (We do this in the microwave: put the butter in a microwave-safe bowl and microwave on full power for around 30 to 45 seconds until melted.)
4. Put the biscuits in a freezer/ziplock bag and crush them using a heavy object like a rolling pin until they resemble fine breadcrumbs. (While you want them to be finely crushed, be careful not to explode the bag by using too much force! Don't be tempted to skip this part, they really do make all the difference!)
4. Using a hand-held or standing kitchen mixer, mix eggs and sugar together in a bowl until very light in colour, and creamy.
5. In another bowl, stir the flour, cocoa, vanilla sugar and salt together so there are no lumps.
6. Add the dry mixture to the egg and sugar mix.
7. Pour in the melted, cooled butter and stir well.
8. Grease the baking tin(s) with butter and sprinkle the biscuit crumbs until the base is covered. You can discard any extra crumbs that don't stick. (In the photos below we tried with speculoos, but boudoir or amaretti give a better result.)
9. Pour the mixture into the tins. (Don't worry that it stays in a mass in the centre – in the oven it will spread to fill the whole tin.)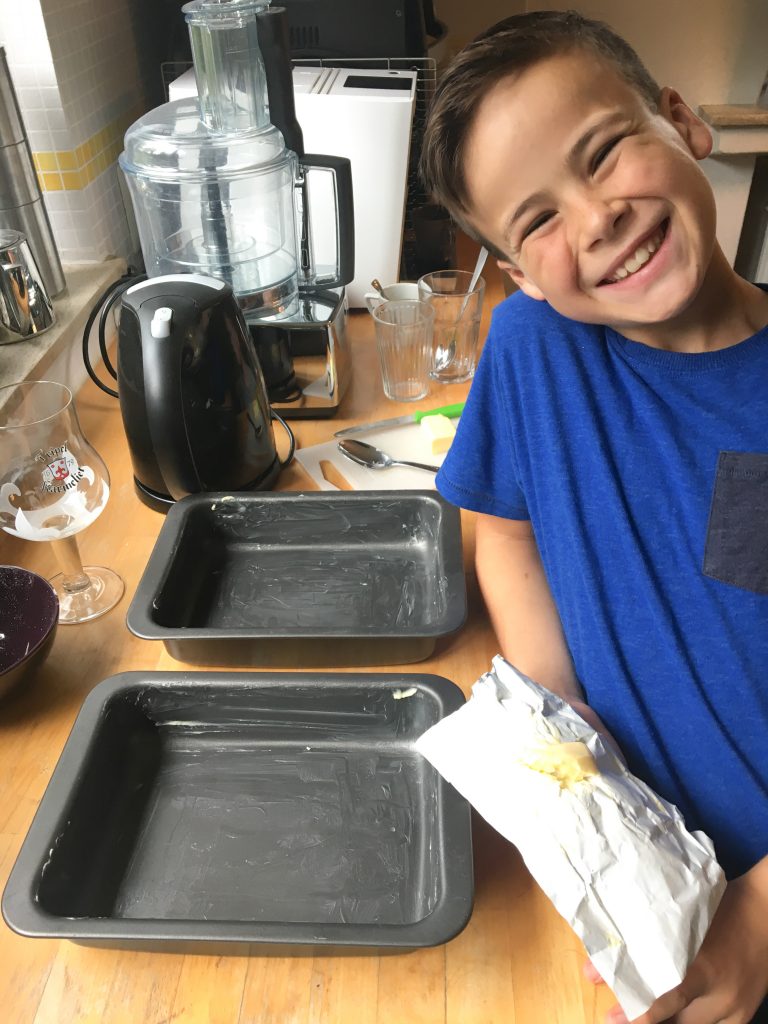 10. Bake the brownie for 30 minutes – and not a minute longer! (If this makes your brownie a little to sticky for your liking, just adjust the cooking time NEXT time ;))
11. Let the brownie cool completely in the tin before cutting it. (We always cut off the edges so we can make 'perfect' (read: perfectly unperfect) brownies. This also gives lots of nice offcuts that you can enjoy even if you're making the brownies as a gift/to bring somewhere.)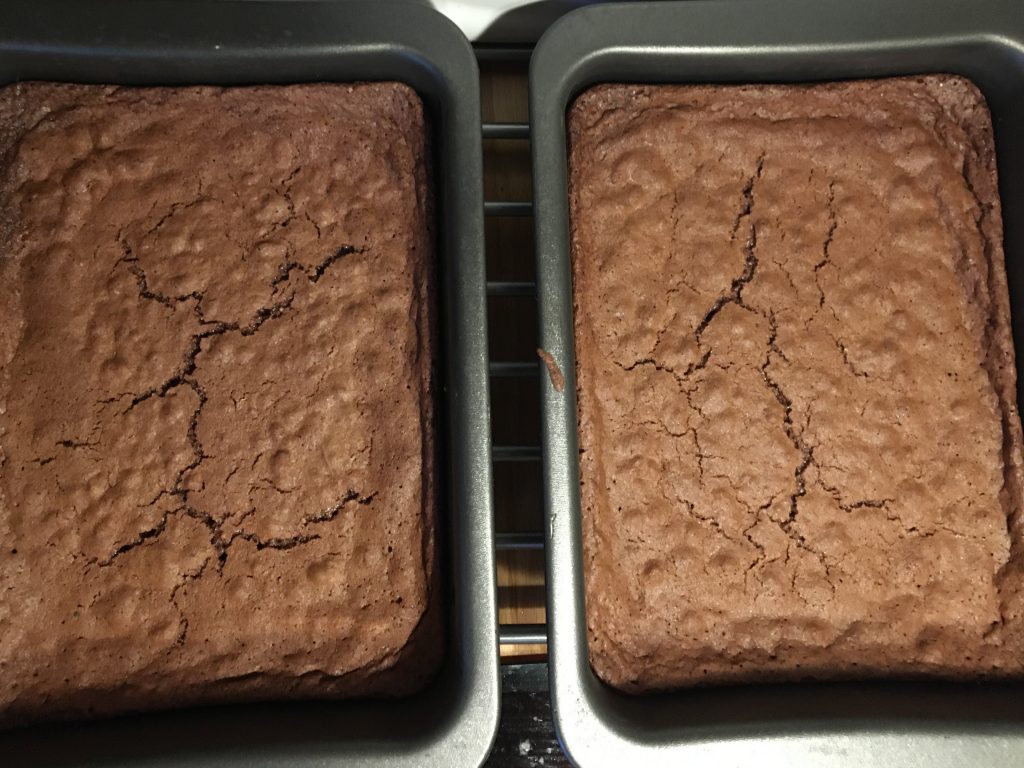 Enjoy!!