At village HQ we sometimes joke that the first thing we'd do if we won the lottery, would be to hire a chef. It's not that we don't like cooking — in fact, the man of the house is an excellent cook (and I'm not *too* bad)!
But really, coming up with meal ideas every single day, finding the time to go shopping and actually cook? Some weeks it seems to take the last drop of energy we have, just to keep everyone fed. (And when our whole blended family is present, 'everyone' means 7 mouths, ranging from 'eat-us-out-of-house-and-home' to a few picky eaters!)
The first time I heard about Crowd Cooks was via the wonderful 'café pousette' Haricot Magique [which closed in 2022] — Crowd Cooks were one of the local businesses present at the See U Christmas Market. But with so much other Christmas 'noise', we didn't make it to the Christmas market, and the full concept of Crowd Cooks didn't really have time to sink in.
It wasn't until I saw a few more people raving about it that I actually went to their website myself to investigate … and then contacted Sofie from Crowd Cooks to see if they had a discovery offer for village fans ? She suggested that the best way to discover the concept for ourselves would be to try it … and the ball started rolling.
The concept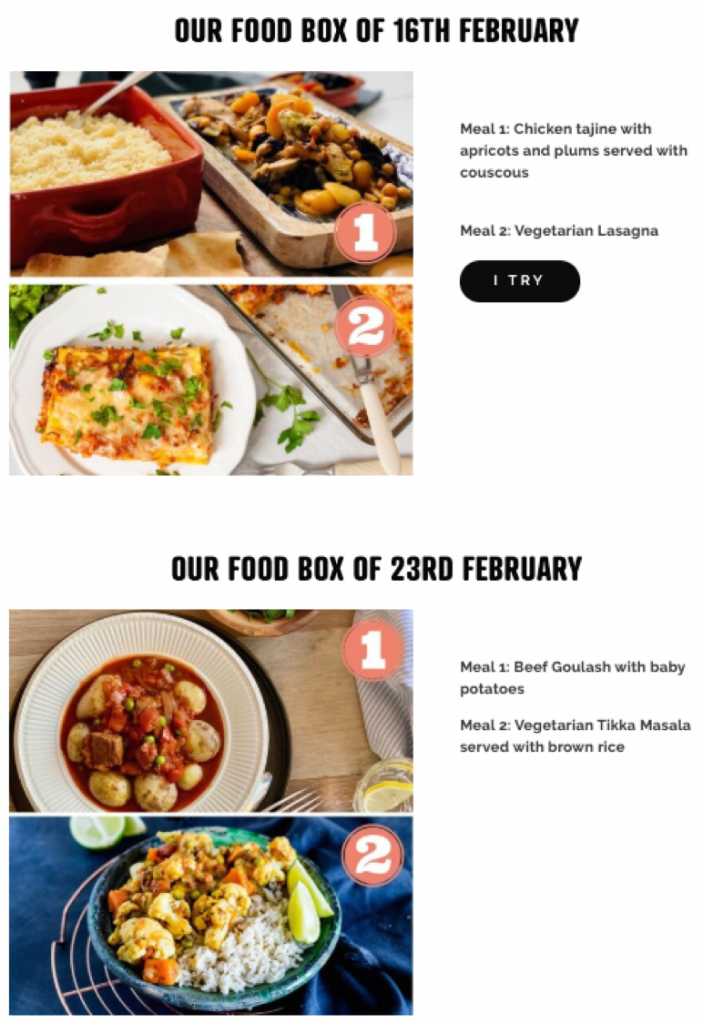 Crowd Cooks takes the pressure off two weekday evenings, by delivering nutritious and tasty pre-cooked meals to your home beforharice the start of the week. The vacuum-packed meals are delivered on Sunday evening/Monday morning (you choose from the three delivery periods offered), and can be kept in the fridge for up to five days, or frozen if you prefer.
Each week, two meals are proposed, one meat-based and one vegetarian. Ingredients are seasonal and local, and full details are included with the meals. You can see the upcoming meals on the Crowd Cooks website www.crowdcooks.be.
On the evening you decide to eat your Crowd Cooks meal, it only take 15 minutes to reheat. No 'cooking', and no messy pots and pans to clean.
Crowd Cooks works on a subscription basis, but it's easy to 'pause' during holiday periods.
Easy, healthy, tasty! What more could you ask for! (Besides the live-in chef, that is ?)
the village tries Crowd Cooks
We took a snap decision to take up the offer of a free one-week trial* of Crowd Cooks at the end of January. Our respective children were going to be with their other parent during the week in question, so it was only going to be the two of us. But we felt this would be the best way to try out the service to see how well suited it would be for the full family affair.
We placed our 'order' (via Sofie, who I'd been writing with) on the Wednesday and received confirmation on the Friday that our meals would be delivered on the Sunday around 18:10. Sunday evening came round fast, and our delivery was perfectly within the announced range.

It was such a nice feeling to be stocking our fridge with two full meals, practically ready to enjoy!
Meal 1: Chicken stew with barley
For our first meal, we chose the 'fricassé de poulet, carotte et céleri, orge' (chicken stew with carrots and celery, accompanied by some barley.
The food itself is vacuum packed — this helps it stay fresh for longer, and is a better alternative than plastic containers. The joy of not having to cook quickly dispelled any minor qualms about how the food looks when it arrives.
Each meal comes with a menu card that lists the ingredients, and provides instructions for preparation and storage. Recto/verso in French/Dutch, there's unfortunately no room for English (the website is available in English, which is great!). But with some nimble Google translating, it's easy to figure out.
And to be honest, there's not a lot to the instructions: submerge the food (still in its plastic of course) in hot, but not boiling, water for 15 minutes. And dinner is ready!! (We could alternatively have removed the food from its bags and microwaved everything for around 5 mins at 750W, stirring half way.)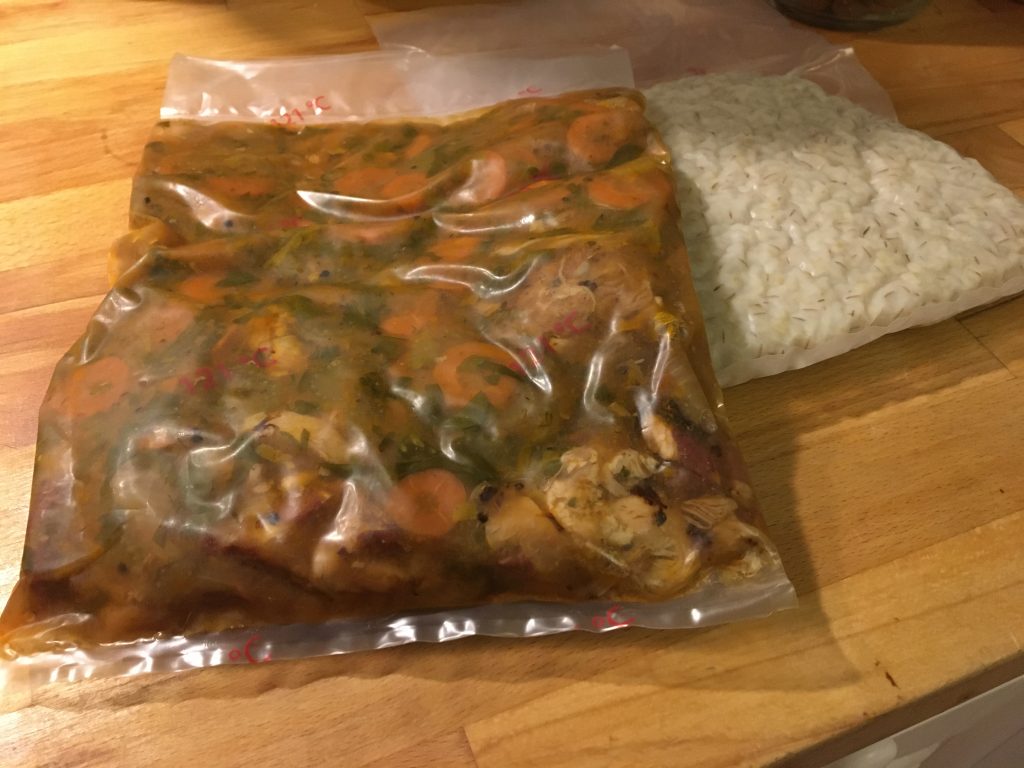 While you probably could manage to serve straight from the vacuum bags, it seemed easier to put it in serving bowls first.
Meal 1 verdict: Overall, a very tasty meal that we feel would have gone down well with the whole family!

Generous portion size, very flavoursome, plenty of good-quality chicken and copious amounts of vegetables.

The barley could have been more seasoned, but of course that's something we could do ourselves.
Meal 2: Vegetables with coconut milk and rice noodles
Our second meal was the vegetarian meal. When preparing the meal we were a little confused by the quantities we'd received — two large bags of what seemed more like soup, and a small bag of rice noodles.
When we asked Sofie (after the fact), she told us that there had been a slight issue with that week's vegetarian meal, and offered a replacement meal … which we declined, because it had still been really delicious!
The flavours were strong but well balanced — lemon grass, kaffir lime leaves, galanga. And again, we're pretty sure our kids (ages 7, 10, 12, 14, 16) would have enjoyed the meal too. Our one comment would have been that — due to the meal being more like a soup than had originally been intended — younger kids might have had some difficulty eating the combination of soup plus slippery noodles.
Meal 2 verdict: Though not quite what we expected in terms of consistency, a delicious meal that transported us well away from cold and grey Belgium!
How does the subscription work?
Crowd Cooks works on a subscription basis, with the default being that you sign up to receive a weekly order, with a recurring payment. However, it's easy to pause your subscription if you know in advance that you're going to be away/have other plans etc. To do this, you just need to inform Crowd Cooks via email or SMS before 17:00 on the Tuesday of the week before.
Value for money?
A box with two meals for two people (so four portions in total) costs €45.90 (cost correct on 11/02/2020), so just over €11 per portion. The cost per portion decreases the more portions you order. For example, ordering for a family of five people (i.e. ten portions per week) brings the cost to just €8.99 per portion.
Taking everything into consideration:
generous portion size of around 500g/person (so you'll definitely have leftovers when eating with kids)
seasonal, local and high quality ingredients
meals that taste home cooked
extremely easy preparation
free delivery, with a choice of time slots
we feel that the price is fair.
Yes, it might seem like a *little* bit of a luxury, but then again, you are essentially buying time. Time with your family, time for activities, time for yourself. And without the usual stress, the actual mealtime can be all the more enjoyable!
Also, a Crowd Cooks subscription would be ideal for challenging periods, e.g. when one parent changes jobs, in the months after new baby is born, or after an accident or long-term illness.
Try it and see for yourself! Crowd Cooks regularly has discovery offers, so keep an eye out.
* We received two two-portion meals, no strings attached. This review is based solely on our own, personal experience.
Crowd Cooks offers a practical solution for family meal planning. With two meals proposed each week (one veggie and one meat-based), you can decide to use them on your busiest days. Meals are delivered on Sunday evening/Monday morning, and are vacuum packed.

Meals can be kept in the fridge for up to five days, or frozen if you prefer. And they only need to be re-heated when you're ready to eat them.

Website: www.crowdcooks.be
Facebook: https://www.facebook.com/TheCrowdCooks/