Donating items we no longer need ticks so many boxes: decluttering our home brings both physical and mental space; enabling our belongings to be reused and recycled is much better for the environment than having people buy new or sending perfectly usable items to the rubbish dump; plus we get the feel-good factor that selling a baby bath for €5 on Facebook marketplace (after several failed pick-up attempts) just doesn't bring!
While passing on clothing and items to friends is also a great to keep things circular, Belgium is home to many parents and families that are struggling to make ends meet, and our donations can make a real difference to someone's life.
REMEMBER: Only donate items that are still in very good wearable/usable condition. Otherwise, the charity has the burden and cost of disposing of those items. Ask yourself 'Would I give this item to a close friend?' – if yes, great, if no, throw it out yourself or find a more appropriate place to bring it – see further below.
In this article, you can find out about the following charities and organisations, including how to donate items, as well as information about financial donations and volunteering:
What about items that are no longer wearable or usable? Find out which high-street shops accept all kinds of textiles (some even rewarding you for doing so!) and how to dispose of non-textile items.
And what if you've already cleared out your cupboards but you'd still like to support charities that help parents and children? The charities listed here will gladly accept your financial donations, and for most, you'll be entitled to 45% tax deduction for all donations over €40.
This article has been on our to-do list for a long time, and draws on local knowledge as well as recommendations from other parents in the wonderful English speaking mums in Brussels Facebook group.
---
NASCI
NASCI is a non-profit organisation that offers concrete emergency aid and support in the Brussels Region to expectant mothers, single mothers and families without income or who find themselves suddenly in a precarious situation. It provides mothers and children with material support, educational and recreational activities, parenting advice, social information, and primary medical and paramedical assistance.
Above all, it's a safe place where emergency aid is given, mothers are listened to and children are played with. NASCI works on the basis of solidarity among mothers and families and depends on donations, both in terms of goods and financially.
NASCI has a professional and diverse team at its disposal and functions thanks to socially committed volunteers of different ages and nationalities. Volunteers mainly help with the reception of the target group, preparing clothing packages, sorting toys, school materials and so much more.
How to contribute?
Material donations
NASCI is very happy to receive items for babies, children and their mums, such as clothes for babies and children from 0 to 14 years, maternity wear, nappies/wet wipes, unopened baby milk powder, bedding, and more. As they have limited storage facilities, they can't accept large items like furniture, large toys etc.
The organisation also regularly announces specific appeals via social media, e.g. maternity clothes, warm winter clothes/cool summer clothes for babies and children.
You can drop things off every working day from 9:00 to 16:00 at their premises at Rue d'Anethan 4, 1030 Schaerbeek.
Call 02 216 88 85 beforehand to let them know you're coming so they can help you unload and see if they have enough room to store everything!
REMEMBER: Only donate items that are still in good enough condition to give to a close friend.
Financial donations
Financial contributions allow NASCI to purchase practical items needed for caring for babies and children, e.g. nappies, milk powder, soap, toothpaste, sanitary towels, washing powder, birthday presents for children, school supplies etc.
You can find full information about making a financial donation on their website (in English), including examples of how money is put to use.
Volunteering
NASCI is always looking for enthusiastic people who enjoy being in a multilingual and multicultural environment, with sufficient practical knowledge and who want to lend a hand, working either alone or in a group. To ensure the most effective help, and so you can bring the most value, NASCI requests a minimum commitment of four hours per week. Contact the NASCI team if you'd like to get involved.
---
Aquarelle
Aquarelle is a non-profit organisation that offers comprehensive perinatal support for women, most often of immigrant origin, who are living in extremely precarious circumstances in Brussels and who don't have access to social security, e.g. because they are undocumented, don't have health insurance, have no financial resources, are refugees.
The organisation works in collaboration with CHU Saint-Pierre in the Marolles to provide prenatal consultations, preparation for birth, full medical support during labour and birth in CHU Saint Pierre, postpartum midwife care at home, 'parent-baby' discussion group, massages for babies, mothers and mothers-to-be, postnatal consultations, help with administrative procedures following the birth, and material support (through donations of items, and via financial support on a case-by-case basis).
How to contribute?
Material donations
To help the mothers they support, Aquarelle need maternity and nursing clothing, clothes for babies and children from 0 to 6 years old, and small equipment like baths, disposable nappies, changing pads, nursing pillows, baby carriers, etc.).
Aquarelle also sometimes posts more urgent appeals via social media, e.g. when they have more demand than usual for maternity clothes.
You can drop things off:
Call Viviane Kaczek on 0475 64 39 72 to let them know you're coming!
REMEMBER: Only donate items that are still in good enough condition to give to a close friend.
Financial donations
Every euro donated to Aquarelle goes towards helping mothers. In 2019, thanks to the donations received, the association was able to buy beds, medicines, nappies and powdered milk, and allocate financial aid for food parcels. See the breakdown of how almost €45,000 was spent in 2019. You can find details of how to donate money on the Aquarelle website (in French).
Volunteering
Aquarelle is always looking to strengthen their team, e.g. for sorting clothes, transporting equipment, and welcoming mothers. Could you help? Get in touch with the team at Aquarelle to see how you could get involved.
---
Les Petits Riens / Spullenhulp
Les Petits Riens is one of Belgium's most well-known non-profit organisations, whose mission is to support those who find themselves in difficult circumstances so they can become more autonomous in the long term. They do this through two main pillars: access to accommodation and social insertion through practical training and apprentices (e.g. in repairing household appliances) and meaningful work.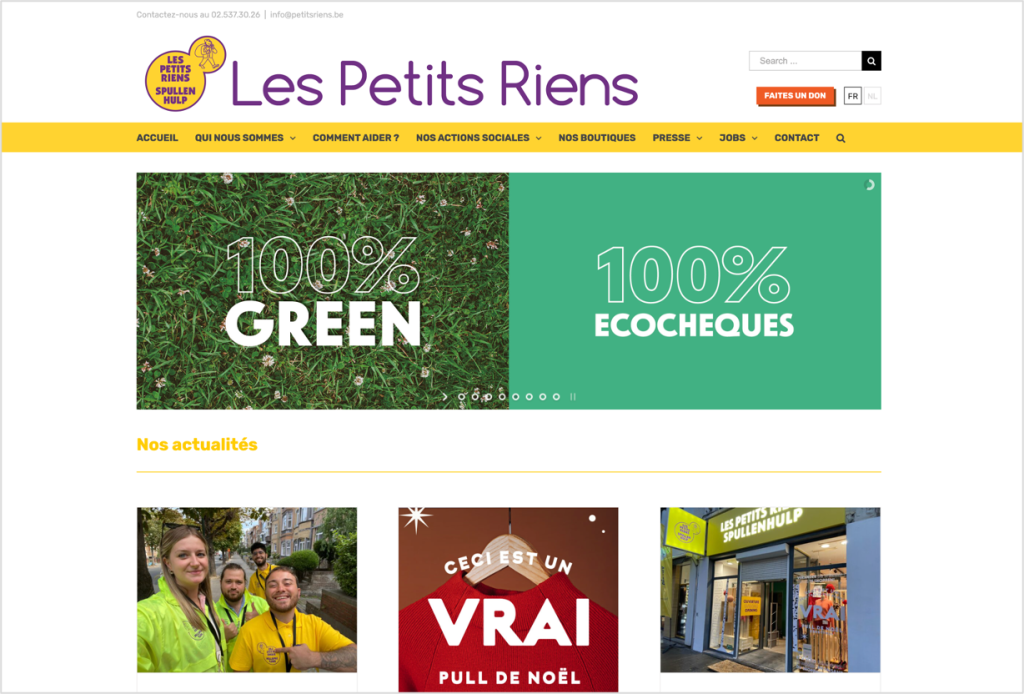 Les Petits Riens is best known among the general public for its many second-hand shops across the country – its Baby Paradise boutique in Ixelles is a treasure trove for bargain hunters, eco warriors and those on a low budget.
Since July 2021, the 'Maison Parenté', located close to the Gare du Midi, has been welcoming single-parent families who find themselves homeless or poorly housed. The house is made up of 16 modular accommodations with a maximum capacity of 45 places.
By donating to, and buying from Les Petits Riens many second-hand stores, you are supporting the organisation's social projects, and contributing to a fairer society.
How to contribute?
Shop in Les Petits Riens boutiques
Money raised from the sale of second-hand goods helps Les Petits Riens keep doing what they do! There are 27 Les Petits Riens boutiques across Belgium, and you can find your closest one via their website. As well as searching by commune, you can also search by category, looking for which stores are best for e.g. baby accessories:
The best place in Brussels to source baby items is:
BABY PARADISE – Google maps
Rue Américaine 97
1050 Ixelles
Monday to Saturday 10:30 to 18:00
Material donations
Les Petis Riens accept a wide variety of items, including clothing and shoes, small appliances, books, furniture, and all kinds of objects, from kitchenware and musical instruments to toys and bicycles. All items undergo strict sorting before being resold in stores, recycled, exported or even thrown away depending on the condition – this is why it's crucial to only donate things in good condition, that can be sold easily and fast.
You can donate textiles and shoes in sealed bags in any of Les Petits Riens 800 containers across Belgium (and in some Les Petits Riens boutiques).
You can bring textiles, small household appliances and small objects directly to the back of the Rue Américaine store in Ixelles, to the stores in Wallonia (Wavre, Namur or Liege), to the main Les Petits Riens sorting centre in Anderlecht or (if you live in Woluwe-Saint-Pierre or Woluwe-Saint-Lambert) to the Woluwe Recypark.
If you want to donate furniture, bring it to the back of the Rue Américaine store in Ixelles, or call ahead to the Wavre, Namur or Liege stores to make sure they can accept it.
Find addresses and opening hours.
REMEMBER: Only donate items that are still in good enough condition to give to a good friend.
Financial donations
All the money raised by Les Petits Riens via its boutiques and received via donations contributes to the organisation's mission of helping people in precarious situations back on their feet – every year, more than 1,500 people are supported! Donations of over €40 are 45% tax deductible, meaning your contribution goes even further. Find out everything you need to know about donating to Les Petits Riens (in French).
Volunteering
More than 250 volunteers give their time and energy to Les Petits Riens – some are volunteering as part of their socio-professional integration, while others are simply showing their solidarity with a more fair and sustainable society. The organisation tries to make the most of the skills each volunteer has, so you can find a role that matches your profile, desires and availability. Contact the team at Les Petits Riens to see how you could get involved.
---
Souffle de Vie
Souffle de Vie is a non-profit association, founded in 1987, that helps any woman or couple who find themselves in any kind of distress related to pregnancy, whether due to family rejection, the father leaving, teenage pregnancy, risk of handicap or disability of the unborn child, poverty, drug addiction, or any other reason. They also offer support to women who have experienced pregnancy or perinatal loss, or who have chosen to end a pregnancy.
Souffle de Vie also allows families associated with the organisation (whether helper or helped) to spend a few days at its site near Couvin, to 'escape' and find a moment to breathe – in return for a small financial contribution and some help around the property.
How to contribute?
Material donations
Souffle de Vie welcomes donations of clothes for children aged 0 to 16 that are in good condition, maternity wear, equipment such as prams, strollers, maxi-cosys, changing tables and cushions, sterilisers, baby bottles, breast pumps, belly bags, children's beds, etc., as well as toys that are complete and in good condition.
You can drop off your donations at one of the Souffle de Vie branches by making an appointment in advance by telephone.
In Uccle, call Jacques and Micheline Philippe (French-speaking): +32 (0)2 375 95 04
In Antwerp, call Jo and Veva Verbeiren (Dutch-speaking): +32 (0)3 449 48 26
REMEMBER: Only donate items that are still in good enough condition to give to a good friend.
Financial donations
Souffle de Vie doesn't receive any subsidies, so it relies on donations from individuals or corporate sponsorships to continue its work. Direct donations to Souffle de Vie are not tax-deductible, but it's possible to make a tax-deductible donation to the charity Caritas (whose Brussels delegation supports Souffle de vie). Find our more on the Souffle de Vie website (in French).
Volunteering
There are two main ways to volunteer your time to support Souffle de Vie. You can become a 'sponsor family', which involves building and maintaining a friendly relationship with a family helped by Souffle de Vie, while also remaining in contact with the organisation.
Or, you can volunteer your time in various ways, e.g. offer your skills as a doctor, midwife, social worker, lawyer, plumber, electrician, mason, etc; help with practical tasks like a house move, transporting equipment and clothing, babysitting; collecting and sorting childcare equipment, clothes received as donations. Contact Souffle de Vie to find out how you can get involved. (The Brussels branch handles enquiries in French, while the Antwerp branch handles enquiries in Dutch; for English, you're better trying the Dutch branch.)
---
Fedasil
Fedasil is the federal agency for the reception of asylum seekers in Belgium. The agency manages reception centres where asylum seekers can stay while their asylum application is being processed, and also provides assistance to asylum seekers and helps them to integrate into Belgian society if their asylum application is accepted.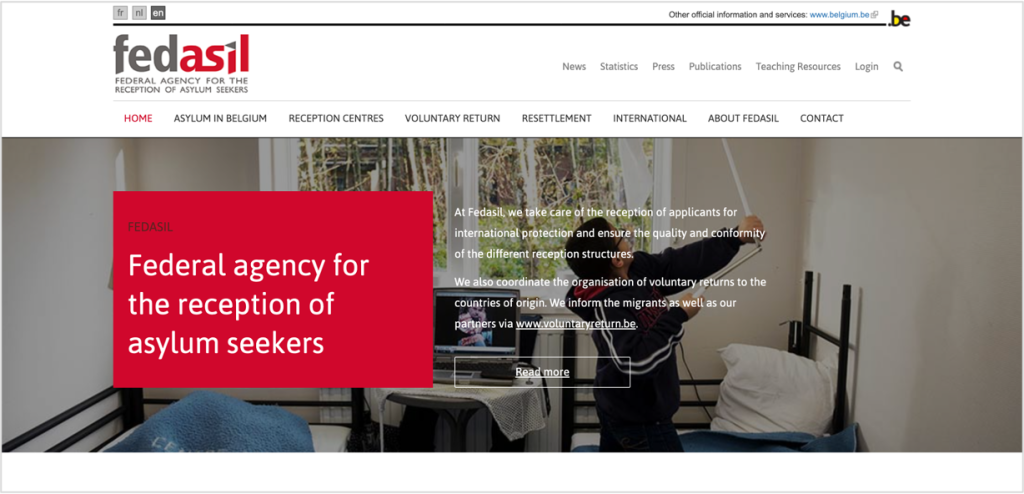 There are 90 reception centres across Belgium, and needs for material donations and volunteers vary between centres – sometimes they make appeals for maternity, baby and children's clothes. Check with your chosen centre what help they currently need, if anything. In Brussels, there are the following centres:
Find other reception centres.
REMEMBER: Only donate items that are still in good enough condition to give to a good friend.
---
Convivial
Convivial is a non-profit organisation that aims to promote the integration of newcomers to Belgium, including refugees who have been granted asylum, by supporting their initial settlement. Specialised support includes social support, specific monitoring of vulnerable people, search for accommodation, furniture, clothing, food parcels and family reunification for refugees. The organisation also helps with social and professional integration, and is committed to raising awareness of the reality of the refugees in our modern world.
The Convivial website is in French, though the organisation has prepared an overview page in English.
How to contribute?
Material donations
When refugees leave reception centres for their new accommodation, they have limited means and there are often delays in receiving the first integration income from the CPAS. Convivial welcomes donations of clothing, household linen, kitchenware, and furniture in good condition to help people get off to a decent start.
You can drop off items to Rue du Charroi 33-35, 1190 Forest from Monday to Friday, 9:00 to 12:00.
Clothes are checked when you drop them off and Convivial only takes items that are in good condition, and that correspond to the needs of the refugees they are in contact with. Furniture must be in good used condition, ready to use and must not require extensive cleaning or repairs.
The Convivial team reserves the right to assess the quality and condition of furniture and clothing and may refuse a donation if it does not meet the criteria.
Financial donations
You can also contribute to Convivial's work by donating financially, whether as a one-off or regular donation. Find out more here.
---
Items that can't be donated
Around 20% of all clothes Les Petits Riens receives need to be thrown away, because they're simply in too bad condition to be sold – and it's charities themselves that need to pay for such disposal of large volumes of items. Donating to a charity should never be a way of just 'getting rid of stuff', and there are other ways to dispose of textiles and other items that can no longer be used in their current state.
Clothing that can no longer be worn
If you have garments that are no longer in good enough condition to donate to a charity, you can take advantage of reuse and recycling programmes run by some of the big clothing brands.
Clothes that are wearable are typically sold second-hand or first repaired. Clothing and textiles that can no longer be used in their current state get transformed to create other products, such as fabrics for the industrial, construction and automotive sectors.

Zara's clothing collection programme lets you donate any kind of clothing, fabrics, household linen, footwear, accessories and even jewellery you wish to recycle – from any brand. Any donations need to be placed in a well-sealed package, which you deposit in the containers provided in stores. Zara's programme supports social projects run by non-profit organisations the company collaborates with, and customers don't receive anything in exchange for donations … just good karma 😉
Other items that have reached end of life
Sometimes, you'll have used an item so much it really has come to the end of its life. Or maybe the item is broken beyond repair. Then, it might be time to throw it out.
If you live in the Brussels region, you can bring your items to one of the three regional Recypark recycling centres that are open all year round. These have distinct areas for all kinds of items and materials, so your items can be appropriately processed, e.g. large plastic toys, wooden furniture, electronics. Make sure you have your items well sorted so staff at the centres can easily direct you to the right section.
Residents of:
If you can't make it to a recycling centre in Brussels yourself:
---
Time for a little spring cleaning to see what items you can donate? 🙂
We hope you've found this article useful! If you know of other great charities that specifically support families (whether as their main mission or as part of their broader activities), let us know and we'll happily add them to this page!