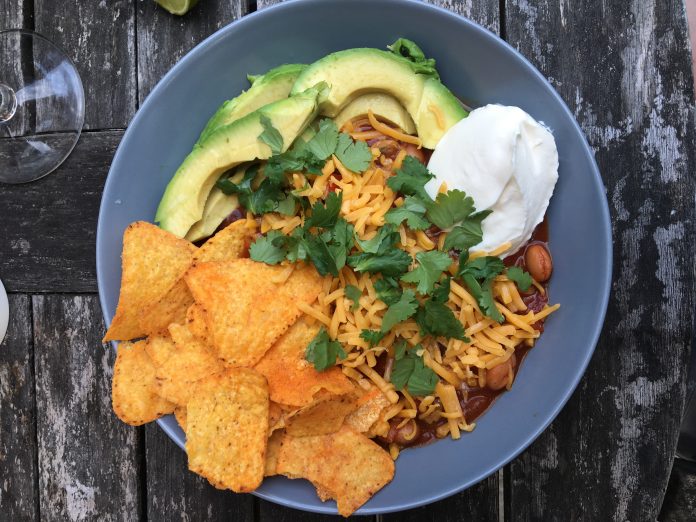 Here at the village headquarters, this is one meal that always goes down a treat! Even more importantly, it's easy and fast to make … and making a double portion is only a little extra work, so yay leftovers!!!

Full of vegetables and beans, and served with avocado, grated cheddar, creme fraiche and optional nacho chips, it's also a pretty healthy meal all round.

Here we share our basic recipe, but you can of course adapt it to your own preferences of beans, vegetables and spiciness.

Serves: 2 adults 2 kids
Cooking time: 30 minutes
Preparation time: 10 minutes
Difficulty level: Easy
INGREDIENTS
olive oil
2 medium-sized onions, finely chopped
4 cloves of garlic, crushed
1 red pepper, finely diced
1/2 a courgette, grated coarsely
2 x 400g cans of chopped tomatoes – don't go for the cheapest 🙂
4 teaspoons of cumin – we LOVE cumin; if you don't, put less
2 teaspoons of dried coriander
1 teaspoon of smoked paprika – you can find this in Carrefour
optional: 1/4 – 1 teaspoon of crushed chili, depending on how spicy you want the dish to be. Alternatively, you could use fresh chili
2 x 400g cans of beans – we typically use kidney beans and black beans, but you can use any kind you like
salt and pepper
cane sugar
To serve:
nacho chips – we like Delhaize's organic chili / plain nacho chips
1/2 avocado per person, sliced
1 big handful of fresh coriander for garnish
1/4 lime per person, to squeeze over the chili
150g grated cheddar cheese (we buy Delhaize grated cheddar)
1 x 200cl pot of crème fraîche
METHOD
Take a thick-bottomed saucepan, and put enough olive oil to just cover the base of the pan – we use a Le Creuset.

Add the finely chopped onions, crushed garlic and spices (coriander, cumin, smoked paprika and chili, if you are using it) and sauté at a medium heat until the onions are clear and the spices are fragrant.

Add the chopped tomatoes, diced red pepper and grated courgette and simmer with the lid on for around 20 minutes.

Add the beans and let them simmer for another 5 minutes.

Season to taste with salt, pepper, cane sugar (to 'round' the taste) and more chili if needed.

SERVING SUGGESTION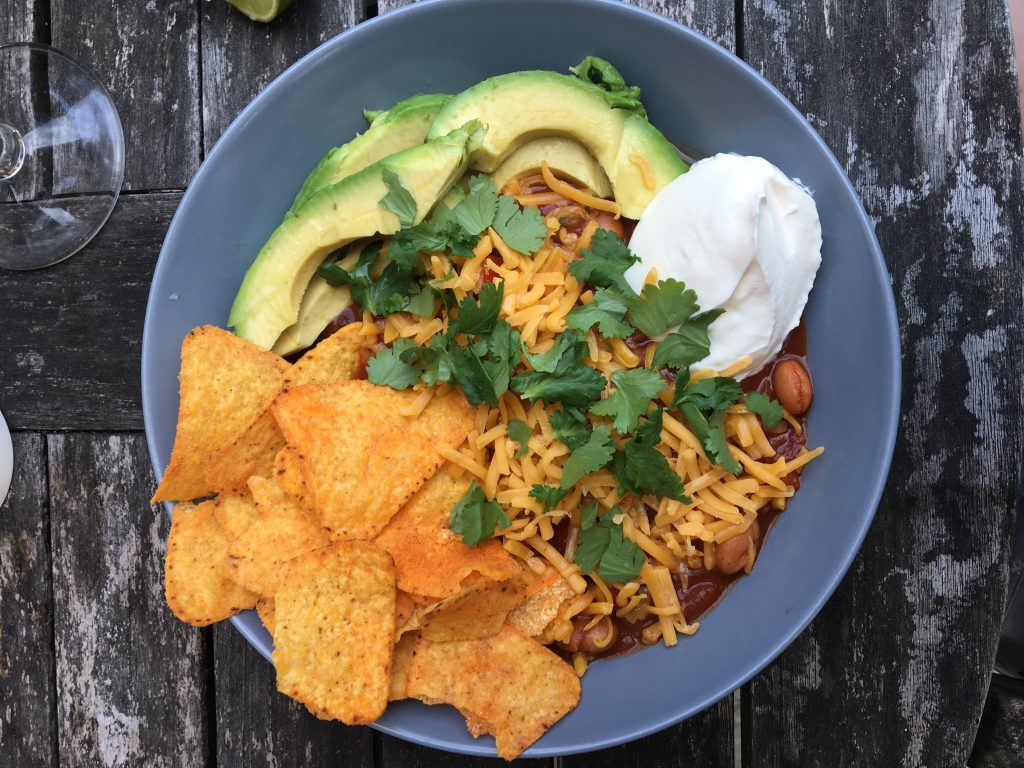 Ours always looks something like this:

– served in a wide bowl
– some lime squeezed over the chili
– a small handful of grated cheddar
– 1/2 an avocado, cut into slices
– a tablespoon of crème fraîche
– a sprinkling of fresh coriander
– a handful of nacho chips


Enjoy!!