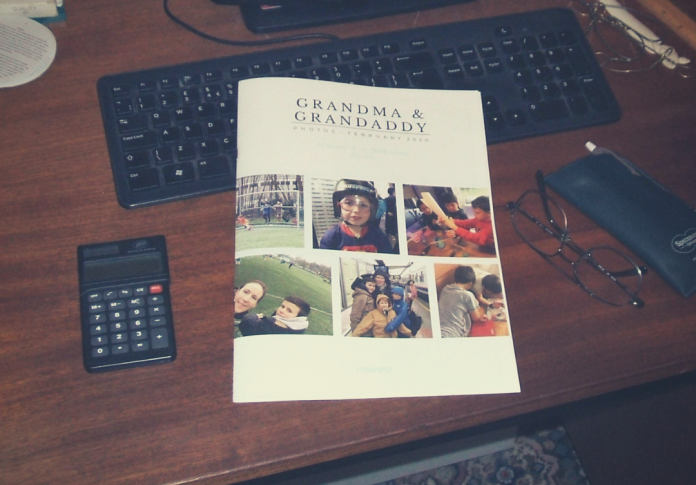 Despite living in an age when we can easily and cheaply video call with loved ones on the other side of the world, most of us regularly lament the fact that it's downright tough to live so far away.
Yes, those precious Skype calls are wonderful, but they're only a snapshot and the everyday moments are simply lost and forgotten.
And sure, we all snap dozens of photos with our smartphones … but the sheer volume of them can get overwhelming, and to be honest, how often do we look back through the years of DSC0549.jpg, DSC0548.jpg etc?
As it turns out, there is a better way!
Back in January, Charlotte from Neveo reached out to us. She explained that Neveo – which started out in Belgium – is a platform that lets you create a monthly journal that gets printed and sent to family such as grandparents.
My parents live in Ireland, and only get to see their grandchildren – my three boys, aged (almost) 8, 10 and 12) – a few times year. We typically Skype about once a week, and I (try to) regularly uploaded photos to Flickr. But I knew they would LOVE to receive a printed journal, so we took Charlotte up on her offer of two free months.

How does it work?
Once you've downloaded the Neveo app and created your account (you can also just use it on a computer), the basic concept is that:
you upload photos during a calendar month – depending on your subscription you can upload 50 (at €9.99 per month) or 180 photos (at €19.99 per month);
at the end of the last day of the month, that month's journal is 'closed', i.e. can no longer be added to, or edited; and
the journal is printed and sent by post, and should arrive at the recipient's address around the middle of the following month, e.g. our February journal arrived in Northern Ireland on 15 March.
Nice to know: you can invite other family members to contribute to one journal, which is a lovely idea if grandparents have many grandchildren spread across the world – the journal would then really serve as a monthly update. The printed journal shows the name of who added each photo.
How easy is it to use?
Very! While it's possible to upload photos from your computer if you prefer, the mobile app makes it really easy to regularly add photos throughout the month, straight from your smartphone.
For each photo, you can add a description of up to 150 characters.
Tip: add the descriptions as you go! It only takes a minute, the moment is still fresh in your mind, and it's a LOT easier than coming back to add dozens of descriptions when the end of the month is fast approaching!
Also – as we learned from the handy prompts and tips when using the app – landscape or square photos work best. You can easily edit these in the app itself.
The end result
We'd originally wanted to surprise my parents with the journal, and have them open it 'live' on a Skype call, so I had strictly instructed them not to open any envelope that arrived with 'Neveo' on it. However, they missed the (apparently small) Neveo name, and went ahead and opened it as soon as it arrived. Thankfully they didn't peek until we were live on Skype soon after.
The journal went down a real treat, as it took them on a journey through many of our everyday moments from February, each time with a little explanation. There were no big events or parties to document that month, but the final result was all the more special for it – my boys doing a 'Titanic' pose on the shopping cart in Colruyt, busy doing arts and crafts at home, chilling out reading, curled up with the cat. We also made sure to get some photos from my boys' alternate weeks at their dads.
There were even photos of my parents in there too, as they'd come to visit for the Carnaval holiday week. So it was all the more special for them.
On each photo, you see the name of the 'person'/profile who uploaded it, which would be great if several families were contributing. It made a little less sense for us to see our name at the top of each description (would be nice to be able to turn on/off that feature … who knows, maybe you can!), but it was no big deal.
My parents were impressed with the excellent quality of the paper and prints – even though they were only smartphone photos – and found it a really wonderful production overall.
So, if you regularly take photos of your family, and are looking for an easy way to keep grandparents up-to-date on those everyday moments, we think €9.99 a month is a very affordable way to offer a really special treat!
Well done, Neveo, on combining technology with good old-fashioned print and post to delight long-distance grandparents! A real win-win.