Welcome to thevillage, Kate! Tell us a little bit about yourself.
Hi, leaving my nursing career and moving to Belgium with a 3-month-old baby and a teenage stepdaughter had never been part of my life plan but 16 years later, I am still here!
My daughter Lucinda aged 15, is thriving in a local Dutch school, a talented French horn player and dancer, while Natasha (aged too old to say..) is living the dream as a snowboarding instructor, half way up a mountain in Canada.
Steve and I have renovated our house, mostly by ourselves and there is always another project in the pipeline which we attack with gusto….roll on the greenhouse and outdoor kitchen, complete with pizza oven!
So, let's rewind a little. How did you end up moving to Belgium with a 3-month old baby?
I never expected to go on maternity leave from my job as a Clinical Nurse Specialist in Alcohol Related Liver Disease and not return but that's what happened.
My husband was offered a job in Belgium and we upped sticks and moved just 3 months after Lucinda was born. Looking back it was a crazy thing to do but I am so glad we did.
That was a lot of change in a very short space of time! But you found your feet and got your family settled. What happened next?
7 years in, after nurturing my family through some tough times, struggling with Dutch and the Belgian bureaucracy my nursing qualifications had lapsed and it was time to reinvent myself.
The Brussels Childbirth Trust (BCT) offered me the opportunity to train as a prenatal teacher. I did a Diploma in Antenatal Education and taught Birth and Parenting courses for the BCT for 5 years.
I loved meeting new parents and sharing a small part of their journey through pregnancy, birth and into parenthood. But I was frustrated – most of the women I taught feared childbirth! I knew their perception of birth didn't have to be one of fear, but finding the right key to release their fear and let in confidence eluded me.
Is that when you started thinking about how hypnobirthing could help?
Yes. I don't remember how or when I found out about KG Hypnobirthing Teacher Training, but I am so glad I did. Here was a birth education course I could teach that would directly address a woman's fear of giving birth!
So, during lockdown summer 2020, I completed my training and became an accredited KG Hypnobirthing Teacher and Simply Hypnobirth was born.
What kind of a qualification is that?
My KG Hypnobirthing teacher training is accredited by the Royal College of Midwives in the UK – a mark of quality and professionalism I value.
I am accredited to teach a complete in-depth KGH antenatal training programme that is specifically designed to release fear and build confidence during pregnancy and birth. And, all my acquired knowledge, skills and experience as an antenatal teacher inform and enrich my hypnobirthing courses. 
A lot of people have only vaguely heard of hypnobirthing, but might not know what's involved. Can you tell us more?
People hear the word hypnobirthing and think it is a hippy, 'new age' fad but nothing can be further from the truth. It is so much more than breathing, visualisations and relaxations for birth.
On my course, women learn about the physiology of birth and how the mind and body work together, as well as how the medical system in which they find themselves works. If they understand those key elements they then know the questions they need to ask of their caregivers to achieve the birth they want. Something I wish someone had taught me 15 years ago when I gave birth to my daughter – a definite case of "I wish I knew then what I know now".
What about partners? Is it useful for them to attend a course too?
As an integral part of the birth experience birth partners are not only welcomed but strongly encouraged to attend. However, if a woman wishes to attend on her own then I adapt the course to make sure her needs are met.
How does it feel to know that you are empowering women at such an important moment in their lives?
It is incredible to witness a woman move from a place of fear to a place of quiet confidence in their ability to birth their baby. I have heard many amazing, positive birth stories from clients. At last, I am truly addressing women's deep-seated fears of childbirth – what a huge privilege!
As well as private hypnobirthing classes, you also run courses in collaboration with the Brussels Childbirth Trust. How did that come about?
One of the main pillars of my life in Belgium has been the BCT. They provided me with an opportunity to reinvent myself as an antenatal teacher and I went on to teach First Aid classes for them – yes, I'm also a trained first aid teacher and started Life First back in 2017 to teach new parents' baby and child first aid and through Antenatal and Baby and the BCT, but that story is for another time.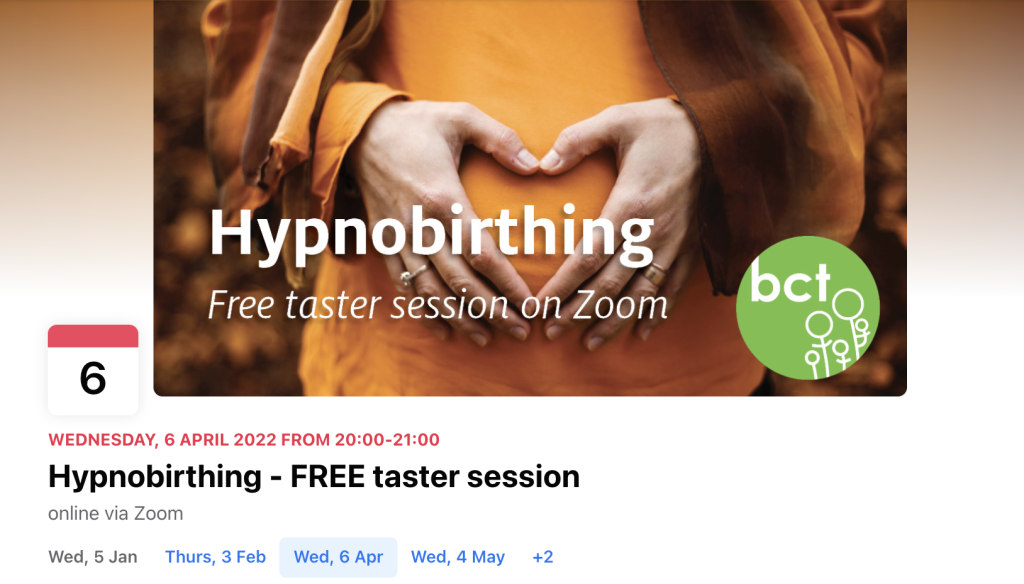 So, when I approached them about running 'BCT Hypnobirthing Classes' I was thrilled when they accepted. Currently I offer a group KG Hypnobirthing Course through the BCT every month. Each course is online, over 4 weekday evenings.
I also offer free, one-hour taster sessions to give people the opportunity to find out more before committing to a course.
As well as the online group courses I offer through the BCT, I also offer private courses, whether in people's homes or online. I'm always prepared to be flexible to find a solution that works. I would be gutted if women missed out because we couldn't make the logistics work.
What's it like to be a 'parent-preneur', running your own business?
In no way would I class myself as an entrepreneur, more an accidental stay at home mum who needed her own space outside the family. But, it's been tough to carve out time to concentrate on being 'Hypnobirthing Teacher Kate' or 'First Aid Trainer Kate'.
It takes passion and energy to keep pushing forward when you are working alone. You don't know what you don't know and keep going down blind alleys.
Now I understand that everything I do needs to add to and enrich my core skills. I have invested in my training and technology, nurtured relationships, not been afraid to embrace change.
Anyone reading this can surely hear that you absolutely love what you do. Is this pretty close to being your dream job?
Yes, I feel like now I have arrived – I have found my niche – a passionate Hypnobirthing Teacher empowering women to reclaim their birth experience and birth their babies with calm confidence!
---
Interested in finding out more about how Kate can help you birth your baby with calm confidence?

Visit the Simply Hypnobirth website, and follow Simply Hypnobirth on Facebook.

You can also reach out to Kate directly via email at lifefirst@proximus.be.

---