SPONSORED POST – Brussels-based mum of two Kerrana McAvoy won a Polisport Bilby Junior infant bike seat and Polisport XXS Baby bike helmet back in a competition we ran in May 2019.

After a few months of trying out the products, Kerrana shares her experience with us.

All opinions expressed in this article are those of Kerrana.
"We're a very active family with two kids and we love being outdoors, so I am always on the lookout for great products which will help us be more comfortable on the move."
Polisport Bilby Junior bike seat
"The bike seat was something we had been interested in for quite a while, as we wanted to be able to take longer trips with our children. I had seen Polisport and other brands and this toddler bike seat looked like it would suit is perfectly."
How easy was it to install the seat?
NOTE: Kerrana chose the rear-frame mount, as shown here on the left. The same seat is also available with a front mount.
"I'm not the greatest at installing/setting things up but everything was quite clear. It took me a little while to read through and figure out how to attach it to the bike and in the end, I needed some help from my husband to get it set up properly.
If you haven't installed a bike seat before, I'd say it would take around 20-30 minutes.
It didn't take me long to fit the feet straps or body strap, it's very straightforward and obvious what you need to do."
How comfortable does your child seems to be in this seat?
"My daughter seems fine with the seat shape, she can sit up straight but isn't forced into an uncomfortable position. I also like the safety bar which holds the child in and lifts up easily to get them out.
The footrests are a good height and allow you to secure the child properly."
How do you feel about how safe and well supported your child is in the seat? "The straps fit securely without feeling uncomfortable or restricting movement. And her feet fitted properly, there was no way they could slip out.
However, if she fell asleep in the seat, I think she might be a little uncomfortable as obviously it doesn't recline, so her head would probably lol about or fall forwards."
What do you think about the design and the colours?
"I liked the neutral colours of the bike seat and the overall design looked great, comfy and modern."
Parent-child experience
How do you feel about using a front baby seat as opposed to one on the back of the bike?
"I prefer to be able to see my daughter, and for her it is definitely more exciting than being on the back of the bike as she can see everything better. She also likes playing with the bell on my bike so that's an added bonus for her!"
Are there advantages / disadvantages to having your child in front?
"There is a bit less space for me getting on and off the bike, but nothing major and overall the advantages definitely outweigh the disadvantages."
Polisport XXS Baby cycling helmet
What did you think of the design and colours of the helmet?
"The design of the helmet was exactly what I wanted for my little girl. It's gorgeous. The colours are really great, and I was really happy with the matt finish. We had one from a different brand for my son who is a bit older and it's shiny, I prefer the matt one.

Definitely a 10 out of 10 for the design!"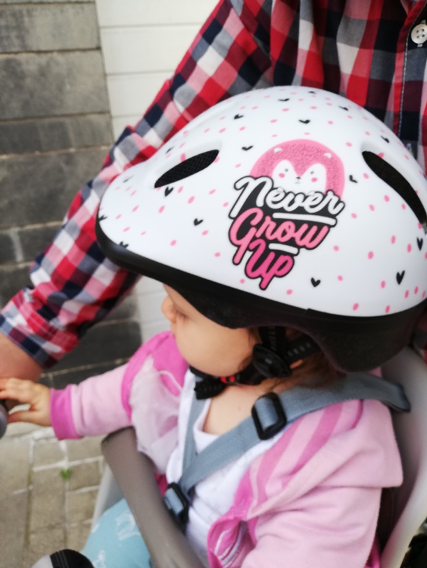 How easy or difficult was it to adjust to the right fit for your child?
"When I put it on my daughter's head she seemed comfortable. It took a few tries to adjust it to get it tight enough to not slip, but once I got it just right it was great."
How comfortable did your daughter find the helmet?
"My daughter seemed to be very comfortable, no complaints at all – and that's coming from a child who hates having things on her head!"
How do you feel about how well protected your child is wearing this helmet? "I feel she is completely protected; the helmet comes around the entire head and I can't see any weak points."
Are there any specific features that you really liked about the helmet?
"I like the overall design and the wheel which you turn at the back to secure the helmet and tighten it – it's easy to use and in a place which means they aren't fiddling with it all the time."
Overall experience
"We had a great experience so far with the bike seat. The seat has been useful for being able to put my daughter on it and go out on short trips without taking the car. It's exciting for her and handy for us as a family.
We've tried it several times and haven't found anything that has been an issue. We're definitely looking forward to going on longer journeys and taking full advantage.
So on the whole, very satisfied with the designs and overall quality."

"the bike seat and the helmet are great products and are both functional and attractive. For an outdoors-loving family with young children they are definitely must have items and we have been very happy with everything."
Would you recommend the Polisport Bilby Junior bike seat and helmet to a friend?
"Yes, definitely. The bike seat has been a great addition to our household and I'd definitely recommend anyone with small children/babies to get one. And the bike helmet is pretty and good quality."