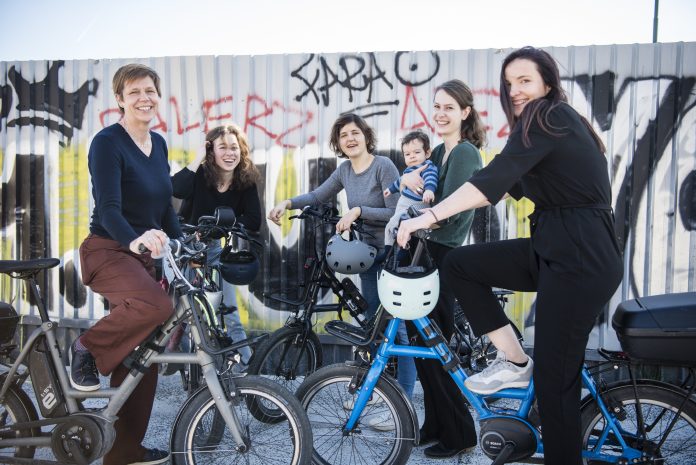 NOTE: Zwanger in Brussels have taken the difficult decision to pause all deliveries (both home deliveries and midwife-assisted deliveries in hospital) from the end of September 2021 onwards, for a minimum period of 6 months. They will continue offering pre- and postnatal consultations, house visits, postpartum consultations, lactation consultations and workshops.
"Hello, hello! Welcome to Brussels!
Let us explain who we are and why we are here in Brussels.
Zwanger in Brussel is a team of five midwives: (l-r) Elke, Sarah, Febe, Arlind, and Hanne*.

We're aged between 21 till 48 years old and we all live in the city … so we're close by when someone calls us with contractions 🙂
In 2008, we started Zwanger in Brussel with two midwives because we saw that people could only give birth in hospitals and that they were not always happy with their birth experiences.
At first, we had consultations in the living room of my colleague … but then we couldn't anymore because she was pregnant. So in a hurry we found a place, started renovating, and three months later, we had our very own Zwanger in Brussel place in Rue Verrept-Dekeyser 39, in 1080 Molenbeek.
Now we also have locations in Schaarbeek and Ixelles.
In Schaerbeek you can find us in the Huis van het Kind-Noord, Rue du Progrès 319, 1030, on the second floor.
In Ixelles, we're in See U on Rue Fritz Toussaint 8, 1050, in building Q
Check our website to know where we are, and when.
So what can we do for you?
We do the follow-up of pregnancies from that first positive pregnancy test until your baby is born, and right up until his or her first birthday!
Midwives are specialised in normal births, and we attend both home and hospital births. If there are no medical issues, you (and your partner) can choose the place of birth.
The key to a good birth experience is to be well informed; we take time during the consultations and give you (and your partner) lots of preparation ideas and tips.
You might also choose to do the medical follow-up with a doctor and come to us for extra information.
What else do we do?
We also offer support for families with a newborn through our home visits, consultations, workshops,…
We never give up to go for better births!
How to contact us
You can reach us by phone (see our site for the numbers of each midwife) Monday-Friday 9am-4pm or via email at info@zwangerinbrussel.be.
For births we are obviously available 24/7, and one of our team is always available 24/7 by telephone for emergencies.
An appointment for a home visit after birth or a breastfeeding issue is also possible during weekends. You will be automatically connected to the midwife on call."