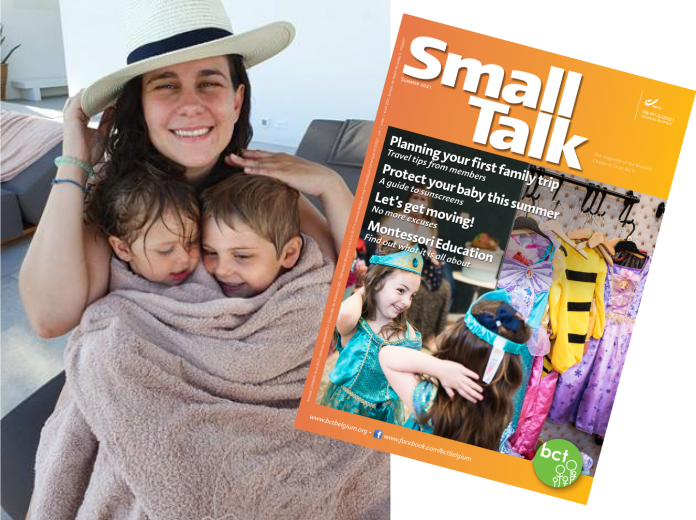 Your family has recently grown and now it's time to take your new addition on their first family holiday. No matter their age and whether it's to see family or jet-setting to an exotic destination, travelling with kids, especially for the first time, is always an adventure. Let me share the key considerations for planning a family's first holiday together.
---
How to get there?
CAR: Within Europe, this gives you the most freedom to travel on your own schedule plus minimal stress on packing and bringing baby gear.
👍🏼 Great for: countryside destinations, visiting family, multi-destination trips, lots of gear, large families, travelling with pets

👎🏻 Not ideal for: city breaks, people who get car sick

💬 Considerations: infants need to stop every 2-3 hours for safety reasons and to feed, will you also need your car once you arrive? how much time can you allocate to travelling?

💡 Tips: pre-plan points/locations in which to stop for feeds and stretch your legs but have back-up spots earlier if needed
PLANE: Obviously flying is sometimes the only choice. Even if not, it's sometimes the fastest way to travel and there is the convenience of checking in your luggage.
👍🏼 Great for: city destinations, far away locales, light packers, plane lovers

👎🏻 Not ideal for: destinations less than 1-1/2 hour flying, travelling with pets

💬 Considerations: cost, restrictions on luggage and baby gear, might still need to rent a car on arrive

💡 Tips: pick a family-friendly airline even if it costs a bit more, early morning flights are least delayed, avoid toys that have really small parts, bring a change of clothes in your carry on for EVERYONE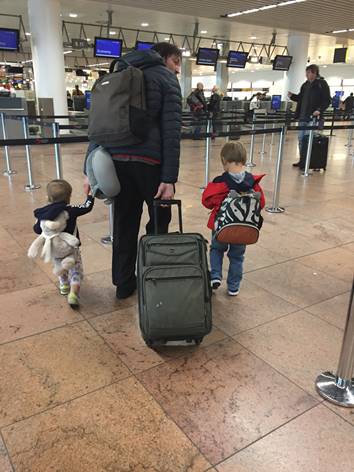 TRAINS: Luckily from Belgium there are tons of amazing places that you can get to easily by train. They're perfect for day trips and weekend getaways.
👍🏼 Great for: toddlers, city and town destinations, minimalistic travellers, eco-conscious travellers, train lovers

👎🏻 Not ideal for: travelling with lots of gear

💬 Considerations: what can you realistically carry on and off while also managing your child(ren)

💡 Tips: limit connections, use a baby carrier when possible, practise handling luggage and child(ren) together BEFORE travelling
Where to stay and why?
HOTELS: This category has such a wide range of service levels and facilities in from all-inclusive resorts to city hotels to quaint B&B's to agrotourism.
👍🏼 Pros: someone else cleans and often you have at least breakfast included, on-site person for local assistance, additional facilities such as restaurant, bar, spa, kids club, etc.

👎🏻 Potential cons: less space at the basic level, multiple rooms or upgraded accommodation needed if it's a larger family
RENTALS: These have become extremely popular in the last decade, especially with families.
👍🏼 Pros: more space for the same budget vs a hotel and somewhere to cook, great for larger multi-generational trips

👎🏻 Potential cons: being in charge of all the clean-up may damped the 'holiday' feel for some parents, lack of additional facilities

💡 Tip: whether hotel or rental, most can provide baby beds and other gear so be sure to ask ahead and save yourself hauling it with you!
What are ideal destinations?
SEASIDE/BEACH: A great one for pretty much any age! And there's just something relaxing about listening to the sea waves crashing or the lake water rippling. Most seaside destinations, especially in southern Europe, are extremely family friendly.
MOUNTAIN/SKIING: For families that enjoy walks and are comfortable using carriers, the mountains can be great even from newborn. If you have a child who exclusively prefers the pram, maybe wait until they're at least able to walk some distance to fully enjoy the holiday. Around 3-4 years old is the ideal time to start skiing lessons.
CITY BREAKS: Children of any age can enjoy a city trip. Infants are pretty much along for the ride. Toddlers and preschoolers always enjoy discovering the parks, interacting with the local kids, trying the food, and perhaps doing some light sightseeing (outdoor monuments, natural history museums, zoos and aquariums, etc). Somewhere between four and six years old you could start doing more culturally-intensive sightseeing and more activities.
EXOTIC/BEACH: While this is unlikely to be your first trip away from home, depending on how your child travels overall, you could do this from a very young age (our daughter was 19 months when we went to Hawaii). Beach destinations like Hawaii, the Maldives, the Caribbean or Central America are an easy way to relax but also start introducing kids to other cultures.
---
This is just the tip of the iceberg and your first trip is not likely to be your last. Enjoy the planning and enjoy the memories you will make together!
As well as volunteering as the BCT Clubhouse reservations coordinator, Marina Kiriazis is a travel advisor and owner of Life's Travel Moments. marina@lifestravelmoments.com
---
Travel tips from fellow BCT Members:
Buy little colouring books, new crayons, sticker books etc. and wrap them up so they have presents to unwrap then play with on the journey.
Download education games so that you don't feel too guilty about the amount of screen time they will have.
Bring favourite stories to read and be prepared to read them repeatedly!!
Purchase a few comics – they are lighter to carry and can be used to make paper animals, hats or aeroplanes once you have finished reading them!
Finger puppets are great fun – you can make up stories, mini plays and they are small and soft to carry in your bag.
Order children's meals so that they arrive earlier than other meals, the kids won't need to wait and watch all the food pass by.
Bring plenty of snacks as meals may not be served according to your child's schedule.
We bring a balloon to blow up if we have a stopover, it's fun for the children in an unoccupied corner of the airport and it can't break anything!
Don't expect your child to nap when they are supposed to or for the full length.
When traveling by aeroplane try to book the first seats in the row to have a bit more room.
Even now I always bring my travel potty. That way I know I will always have a clean toilet to use wherever we are and it is also useful if one of them gets travel sick 😉
Be conscious of other people (your children kicking the seat in front of them) but be brave enough to accept that children are children and don't worry what other people think about "normal" noise that your child is making. We can only do our best.
On a long car journey we stop at motorway services, change the children into their PJ's, brush their teeth and read them a bedtime story. They usually then fall asleep so when we arrive at grandma's it is easier for us to lift them straight into bed.
When it all comes down to it, travelling is part of life and is unavoidable if you have family abroad so you need to hope for the best but expect the worst.
And just think that as soon as you get off the plane or out of the car you can usually pass them over to a family member and go take a ten minute breather!
---
The Brussels Childbirth Trust has been providing English-language support to families and parents-to-be in Belgium since 1978. It's a not-for-profit organisation run entirely by member volunteers who know exactly what it's like to start or raise a family far from the usual support networks in our home countries.

Join today to enjoy:
– activities like playgroups, new mums drop-in, gardening club, craft activities, music groups in the BCT Clubhouse in Ixelles (including refreshments for parents and children)
– information talks
– access to more than 10 local groups, and many support groups
– members-only events and courses as well as discounted access to other activities and events
– a vibrant Facebook group
– Clubhouse rental opportunities (for birthday parties or events)
– volunteering opportunities
– the chance to meet other international families from all over the world!

Find out more about what the BCT offers on their website https://bctbelgium.org/ and follow the BCT on Facebook for news and updates.